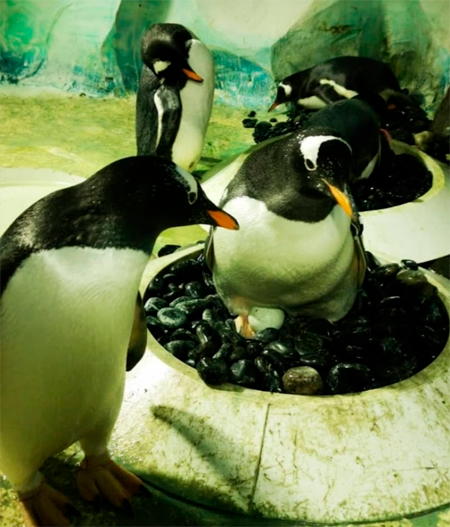 The National Sea Life Centre in Birmingham is celebrating after staff spotted a penguin egg in one of its penguin nests.
If it hatches, this will be the colony's first fluffy new arrival in two years.
Keepers had been keeping their fingers crossed that Prince, their young one-year-old male Gentoo penguin who has been labeled 'Britain's Loneliest Penguin" after not finding love during his first mating season last year, had finally found the female of his dreams.
And after two months of trying, the clumsy yet amorous youngster made his advances on his sweetheart and older female Hyacinth, and took her dozens of rocks – the love tokens of the penguin world – and plans seemed to have worked.
Staff were delighted to spot an egg on four-year-old Hyacinth's nest and will be keeping their fingers crossed they are all able to welcome a chick in the coming months.
Alan Kwan, displays supervisor, said: "We make sure we let the penguins care for the eggs themselves, which means we can't always guarantee that we will get a chick, as it depends on how well they take care of their nest."