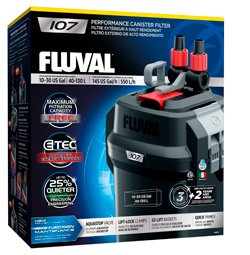 The all-new 07 series marks the seventh incarnation in nearly four decades of Fluval's top-selling canister filter family worldwide, with eTEC (Efficient Technology) at the heart of the 07 series.
A spokesman said: "Not only does the latest generation incorporate the power and reliability you've come to expect from the leader in aquatic filtration, but it also features several new performance upgrades that make it up to 25% quieter and more robust, energy efficient, flexible and easier to use than ever before."
Fluval has redesigned several features of the 07 series, including new ergonomic AquaStop valves (which permit instant hose disconnection), as well as a fiber-reinforced priming handle (for effortless start-ups) and single-action dual locking clamps (for quick motorhead detachment).
Fluval has also integrated EZ-Lift media baskets into the 07 series, which includes a new center handle design for simplified and simultaneous removal of the main media stack.
An independent pre-filter cartridge includes four separate chambers for quick and convenient access and features a unique vertical foam orientation that grants more filter surface area than most horizontal layouts. The pre-filter area will also feature Fluval's new Bio-Foam Max, which is highlighted by a rippled pattern that creates up to an additional 30% surface area to efficiently trap waste and debris.
Several other media products will complement the existing Fluval range, including the all-new BIOTERRA natural biological clay, and the Phosphate, Nitrite and Ammonia removers that are now offered in a convenient pad format.
It also features larger vibration-dampening feet stabilizers for filter case protection , and its re-engineered, precision-crafted pump makes the filter up to 25% quieter. RRPs from £109.99 for the 107 canister filter up to £219.99 for the 407 model.