When Adrian Wilkinson, director of FourFriends Pet Foods in the UK, turned up to exhibit his otterhound, Flo, on the breeds' Discover Dogs stand at Crufts, he had no idea that by the end of the day his dog would be a TV star.
But that is exactly what happened when Channel 4 wanted to show the breed on that evening's TV coverage.
The otterhound is an old British dog breed, a scent hound that is currently recognised by the Kennel Club as a Vulnerable Native Breed with only around 600 animals worldwide.
Adrian has been interested in showing otterhounds for a number of years and it was his interest in these dogs that led him to set up FourFriends Pet Foods in the UK.
The Swedish brand manufactures its own range of dry and wet food consisting of chicken, lamb, duck, wild boar and turkey – and in some products, a combination.
FourFriends pet nutritionist Meri Hakkarainen said: "We only use high quality raw materials and there is no ingredient in the recipes that is unnecessary such as fillers…
"We feed our own dogs on the range and it helps to keep them in tip top condition. This is particularly important now as Flo has become a TV star although she was more interested in having a snooze on set than being a diva."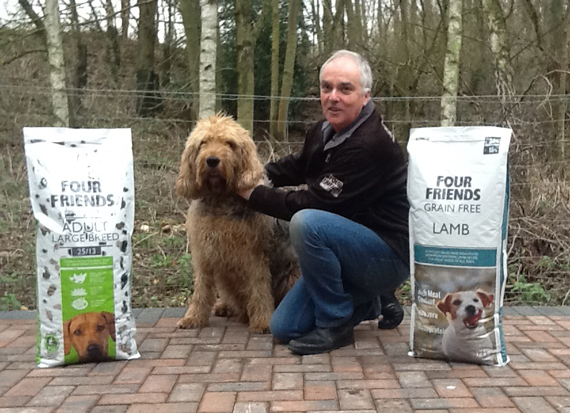 Adrian Wilkinson, Director of FourFriends Pet Foods with his other otterhound, Henry