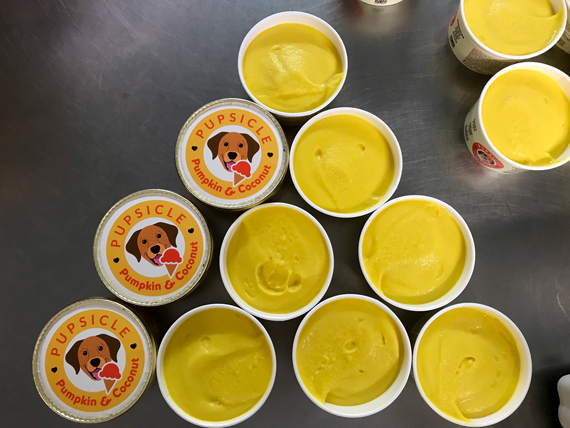 Iced treats brand Pupsicle has unveiled a new line of premium treats for dogs.
The products are available in three varieties: carrot, spinach and pea; pumpkin and coconut; and blueberry, apple and sweet potato. They are dairy free, grain free and have no artificial flavours or colourings.
Sarah Owen, an English teacher and part-time puppy trainer, founded Pupsicle last year. "Pupsicle came from my learning about dogs and our relationships with them as part of my extensive training to be a puppy school tutor," she said.
"I wanted to create a joyful experience for owners and dogs to share – dogs love to lick, and the act of holding a tub for your dog improves the bond between owner and dog."
Pupsicle is produced by Dann's Farm, a family-owned ice cream manufacturer in Norfolk.
Sarah came across Dann's Farm's production manager, James Smith, after searching for artisan ice cream makers on the Internet to help develop the idea and make the product.
The brand's name was inspired from James' initial idea of making the treats as popsicles, but when that did not work as planned, he experimented with producing them in tubs instead.
"We started making just a few hundred tubs in the summer of 2018 and we are now stocked in pet shops and cafés in East Anglia and London."
Sarah said she hoped to showcase Pupsicle at PATS Sandown next year.