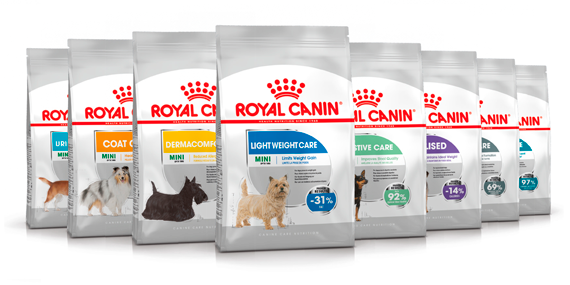 Royal Canin is introducing a new range from May.
The company says it has developed Canine Care Nutrition through extensive internal research to support several common sensitivities found in dogs, including digestion, skin, coat, weight, joint, dental and urinary tract health, plus food tailored to support the change in nutritional needs of dogs after neutering.
Canine Care Nutrition offers a complete and balanced combination of both wet and dry diets, boasting 'proven results' on every pack. Royal Canin says the range meets its usual 'high standards of excellent product digestibility, and palatability – a key benefit for owners considering a change of diet for their dog'.
Royal Canin retail marketing manager Ben Hurley said: "The pet population is on the rise, with a record nine million dogs in the UK, and our objective is always to offer pet owners the best possible nutrition to support their pets.
SENSITIVITIES
"Canine Care Nutrition provides this tailored support for different sensitivities with proven results easily visible to owners. For the specialist pet trade, it is another way to differentiate themselves and, with the Royal Canin range, enhance their position as experts on canine nutrition."
The four new offerings are:
> Sterilised, which was previously available in other markets but is new to Royal Canin UK. It is for dogs post-neutering and offers a reduction in calories compared with adult maintenance diets. The inclusion of Sterilised Wet pouches will attract owners who prefer to mix fed, and enables retailers to cross-sell across wet and dry, or offer it as a trial introduction
> Coat Care includes proteins and omega 3 and 6 fatty acids specifically selected to support skin and coat health – also available in wet pouches
> Dental Care uses an exclusive kibble shape that provides a daily tooth-brushing action combined with calcium chelators to reduce tartar build-up
> Urinary Care supports a healthy urinary system, which can be a particular concern for small breed dogs.
In store, the Care range will be supported by a variety of point-of-sale materials with clear messaging so pet owners are able to navigate the range easier on and off shelf.
MISCONCEPTIONS
The new range is also being supported by an extensive consumer PR campaign from June, highlighting common misconceptions about dogs' nutritional needs and raising awareness of sensitivities.
Ben Hurley said: "We are really excited to be putting so much behind the launch of Canine Care. This will be our biggest campaign to date and the activities we have planned will enable us to reach more pet owners to raise awareness of different sensitivities and the unique formulations we offer. Our end goal is to drive new pet owners in to the specialist pet trade to recruit them in to the category.
"Even among healthy adult dogs, one in three can be affected by sensitivities such as loose stools, flatulence, dry skin or a dull coat. Canine Care Nutrition means that owners, and the specialist pet trade, can provide a nutritional answer tailored to supporting a particular concern or sensitivity backed up by proven result claims.".