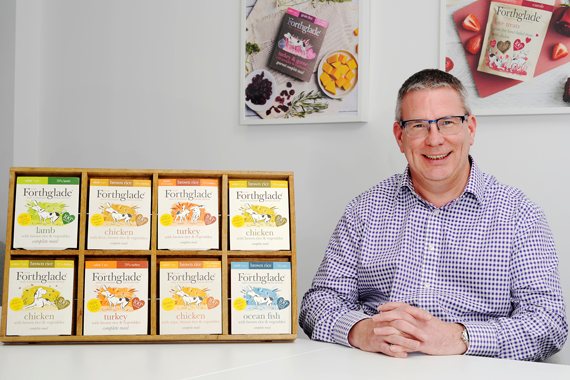 James Kennedy, new sales director for Forthglade natural pet food has been enjoying his introduction to the pet food sector, taking the lead at events such as PATS and Crufts.
James joined the Devon-based natural pet food company with 20 years' commercial sales experience across the FMCG sector, with brands including Wrigley's, Mars and Thatcher's Cider. He now oversees a 10-strong national sales team, covering all areas of the trade as well as international sales.
"The pet food sector is proving an incredibly exciting sector to work in," he said. " It's such a dynamic category.
"Joining Forthglade, a company that has such a strong reputation for quality, has been a real privilege. The past few months have been a very busy time for us. With the launch of the newly-built Devon factory, production has been a key focus. While the factory's been bedded in, there's also been a huge increase in sales, however, it's great that our production is now higher than it's ever been before and at a level required to catch up with our orders. We've been hugely grateful for the trade's patience while production has needed to increase – availability remains our priority."
IN-STORE SUPPORT
"This year we're also increasing our focus on new POS and in-store support. Newly-designed floor-standing displays are in production along with shelf strips, barkers and promotional header cards, which we look forward to sharing soon. There's also additional POS available to help promote our popular new mini treats and our other new products such as the new complete grain-free recipes Chicken & Liver and Sardines plus our new gourmet meal. It's been an exciting time for us with new recipes launched.
"I'm really looking forward to the next PATS event as it proves such a great opportunity to meet more of our customers face to face. Independent retailers have such a unique opportunity to engage with pet-owners first hand, so we're really keen to offer as much support as we can in 2019 to help highlight all the health benefits of feeding a Forthglade diet."