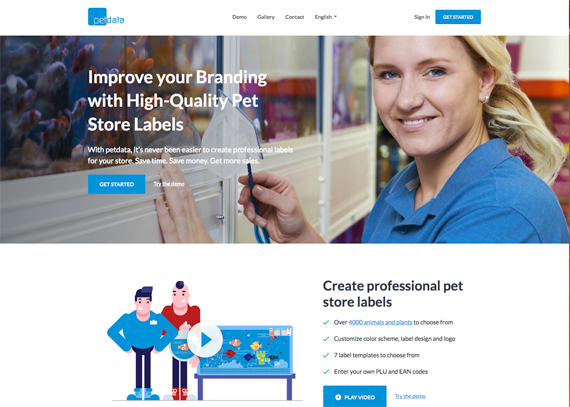 Petdata, an Austria-based company that helps pet stores produce labels for their plants and livestock, is branching out into the UK.
Founded in 2008, Petdata has become an industry leader in pet label solutions in both Germany and Austria. The company says it continues to innovate and improve its product and is eager to spread the benefits of its labeling platform to pet shop owners around the globe..
"After being approached many times by pet retailers at Interzoo and other trade shows we are very happy to offer our product in the UK," said Karl Lipski.
"One of the common issues pet shop owners face is that they struggle to clearly and professionally display key information to their customers about all the animals and plants they have in stock. This leads to frustrated customers, who need to find a store worker to answer all their questions about pricing, care, and maintenance.
DIVERSE CATALOGUE
"That's where Petdata's flagship labeling solution comes in. Our platform provides pet shop owners with a diverse catalogue of over 4,000 plants and animals to create labels from. And new pets and plants are always being added to the system. It's incredibly simple to generate, edit and print labels for a unique pet shop brand.".
In addition, Petdata's intuitive scanner app simplifies checkouts and inventory management.  Staff can use the app to create a list of products that a customer will buy. It is as simple as scanning the appropriate Petdata label, printing out an order form, and scanning the barcode on the cash register. This helps to ensure there are no errors in the checkout process.
"For pet store owners, Petdata is a revolution in business management," said Karl.
Over the years, Petdata has secured strategic partnerships with well-known companies such as CASCO and Tropica. In addition, the company has been providing pet labels for big name brands in the EU such as Futterhaus and OBI.
Integral to the labelling solution is the ability for pet stores to fully customise labels to match their existing branding. Petdata gives business owners complete control over their label design to save time and money in the long run.
"There's simply no better way for pet stores around the world to improve their labelling, branding, and marketing," said Karl. "Petdata is ushering in a new era of product presentation for pet stores around the world and, ultimately, helping business owners improve their credibility and sell more products to their customers. "