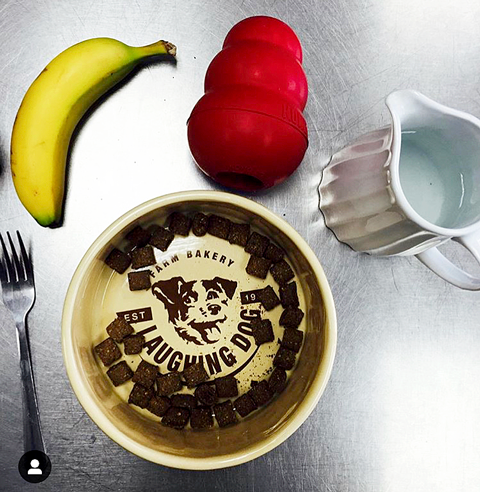 Oven-baked pet food brand Laughing Dog has formed a partnership with durable pet toy company KONG, which has been designing durable and stimulating toys for more than 40 years.
Kate Tarrant, Laughing Dog marketing manager, said: "We are delighted to have partnered with KONG. They understand the wonderful minds of dogs and have developed a product that puts four-legged friends first. We know that many of our customers use our natural baked treats and mixers to fill their four-legged friends' KONG, as well as creating homemade recipes. Here at Laughing Dog our aim is to make dogs 100% dog happy and what better way to start than with lots of play."
Elselien Wijnsouw, European marketing manager at KONG, added: "We are very excited to work with the natural baked company Laughing Dog. Together we have developed a recipe video, which has gone live on our social media, to inspire our followers and demonstrate how you can stuff your KONG by using the Laughing Dog Mixers. We are looking forward to see how we can work together in the future on similar projects."
KONG and Laughing Dog are hosting a UK-wide competition to find tasty and unique recipes that can be stuffed inside a KONG. There will be 12 winners, each receiving Laughing Dog treats and a KONG, and whose recipes will be turned into a calendar printed and designed by KONG and Laughing Dog. Proceeds from the calendar will be donated to UK charity the Guide Dogs. To find out more, visit KONG or Laughing Dog's Instagram or Facebook pages.
Laughing Dog is part of Fold Hill Foods, based in Lincolnshire.