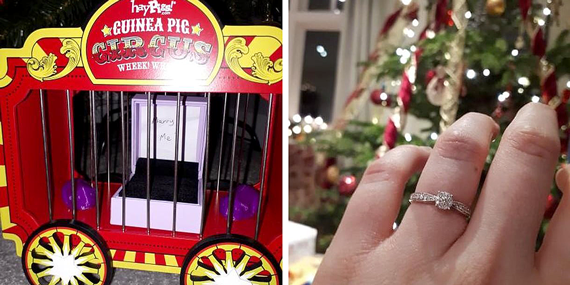 As it's Valentine's Day, the husband and wife team at HayPigs! wanted to share a romantic story with our readers.
If you look carefully at the photograph of the HayPigs! Wheek Wagon, this is what guinea pig lover Jessica found under her Christmas tree.
"As if the excitement of her new hay hopper wasn't enough, Jessica's boyfriend, Richard, had hidden an engagement ring inside it and proposed to her. The happy (guinea pig mad) couple are now engaged!" said HayPigs! co-founder Helen Cridland.
"When Jessica shared her story with us, it just made us grin from ear to ear – how wonderful. We like to make a difference in people's lives, but who knew our Wheek Wagon would also make the perfect ring bearer?"
Jessica and Richard are yet to set a date, but are looking forward to visiting some venues and making plans.
"We wish them all the best," said Helen, "Perhaps I'll need to buy a hat – for their guinea pigs at least!"