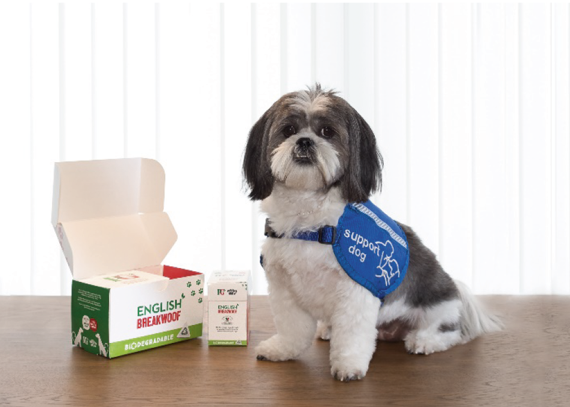 PG tips is marking this year's International Dog Day on August 26 with its first foray into the pet-refreshment sphere.
The leading tea brand is joining forces with award-winning pet drinks company Woof & Brew to launch an exclusive 'cuppa for your puppa' – English Breakwoof, a puppy-safe tea with 100% of profits going to national charity Support Dogs.
Each pack promises the ultimate kit for tea and dog-lovers, including a pooch-friendly tea infusion for our four-legged friends, as well as a box of PG tips original blend for tea-loving pet 'parents'.
Encased in a recyclable branded outer box, each pack includes a box of 10 biodegradable pyramid English Breakwoof teabags and a box of PG tips original 40 biodegradable pyramid teabags – one for you, one for your canine pal.
The dog-safe English Breakwoof teabags are a blend of burdock, dandelion, flax, nettle, seaweed, and rooibos – and contain no caffeine or preservatives.
RELAXING
Charlotte Ridley, marketing manager at PG tips, said: "Our social media is often flooded with PG tips fans sharing images of them enjoying a cuppa alongside their furry friends and, as a nation of dog-lovers, we knew we had to get the pooches in on the action, too.
"Our partnership with Woof & Brew to deliver English Breakwoof means that pups no longer need feel left out when their owners are relaxing with a cup of tea – they can now enjoy a special cuppa themselves!"
Steve Bennett, co-founder of Woof & Brew, added: "We're thrilled to have partnered with PG tips on such a meaningful project, not just to guarantee that dogs are receiving safe and healthy alimentation, but also to help raise vital funds for Support Dogs and ensure that people who face difficult lasting medical conditions are able to enjoy the irreplaceable companionship of a dog.
"We're very proud of our pet-friendly English Breakwoof tea and hope that Brits nationwide will enjoy the benefits that it will bring to their furry friends."
A limited number of English Breakwoof tea packs are available to pre-order from tomorrow (Wednesday, August 18) exclusively from www.woofandbrew.com/English-Breakwoof-PG-Tips (RRP £9.99).