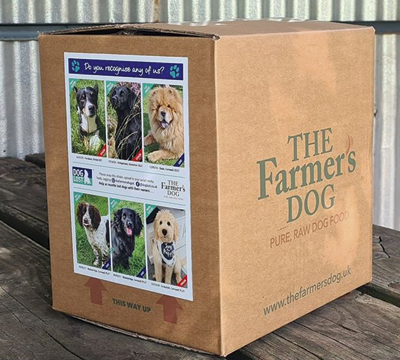 A raw dog food company has teamed up with a nationwide voluntary organisation in a bid to find missing dogs.
The Farmer's Dog has fixed DogLost stickers with the profiles of six missing dogs onto their mail order boxes.
The Devon-based firm is then urging its customers to take a picture of the sticker and share it on social media channels to digitally help the search for the missing dogs.
The stickers will be changed each month, so a total of 72 stolen and long-term missing dogs will be highlighted in a year.
Brian Balston, of The Farmer's Dog, said: "We have a nationwide customer base of dedicated dog owners. We are excited to be working with DogLost and we hope that our collaboration helps dogs be returned to their rightful owners."
Dog Lost's Justine Quirk added: "With dog ownership in the UK at an all-time high, unfortunately so is dog theft. Last year we had 465 reported thefts and to date in 2021 we have had 254 reported stolen.
"We are delighted that The Farmer's Dog came to us with their 'missing' campaign concept which, with the benefit of social media, can only help us in our mission to reunite stolen dogs with their owners."
The joint initiative is reminiscent of a 'missing children milk carton campaign' used throughout America in the 1980s.