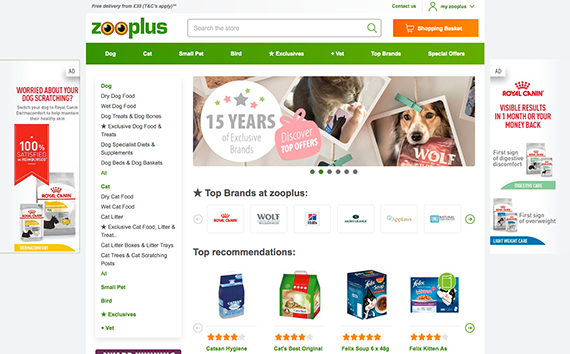 Leading European online pet retailer zooplus has delivered a record 2020, with 'an excellent performance' across all relevant top and bottom line key profit indicators.
The Munich-based business closed the 2020 financial year with sales of €1,802m (£1,533), up 18% on 2019's €1,524m, and a gross margin of 30.4% (29.0% in 2019).
The company says the development was driven by its 'extraordinary loyal customer base across all geographies, its expanding flagship Subscribe & Save program and strong growth in its own-brands business'.
Dr Cornelius Patt, CEO at zooplus, said: "We have built our platform around our customers and their beloved pets. Being customer-centric is essential for customer happiness and for attracting new customers. In return our customer base rewards us with extraordinary loyalty and by increasing their spend with each year at zooplus. This is the perfect foundation to invest into high-quality, double-digit customer growth and thereby gain further market share in a highly attractive and booming market."
In 2020, zooplus saw double-digit sales growth across all markets and in the fourth quarter alone, sales grew by 20% to €503 m (Q4 2019: EUR 419 m), resulting in a yearly run-rate of more than €2bn. One key factor for this success was the company's increasing number of active repeat customers, which grew by 16% to more than €5m.
Through a combination of cross- and up-selling and loyalty tools, the active repeat customers' annual spend was significantly higher, achieving a record-setting EUR €383 (gross) in December 2020. The strategic focus on loyalty also yielded a revenue retention rate of 99% in 2020, while some markets and more mature cohorts are already performing above the 100% mark.
MARGIN
Beyond this top-line performance, zooplus also expanded its gross margin to 30.4%. One relevant factor was zooplus's own-brands business sales up 34% over the previous year and now accounting for 16% of total sales. Full year EBITDA grew by €51.5m to €63.3m, translating into an EBITDA margin of 3.5% (2019: 0.8%) thanks to a reduced share of promotional sales and a more targeted approach in traffic acquisition.
Andreas Maueröder, CFO at zooplus, said: "2020 has shown that we are able to drive double-digit top-line growth while improving our profitability and cost efficiency. We are very well equipped to finance high growth in the coming years by investing into new customer acquisition, customer retention and sales per account. At the same we see the long-term profitability of these revenue streams increasing."
zooplus has continuously invested into its customer base with the help of powerful loyalty tools. One central pillar of this strategy is the company's flagship Subscribe & Save program, which already accounts for 54% of zooplus repeat sales in 2020.
The average gross sales per repeat customer with Subscribe & Save grew to €536 compared with €288 of non-Subscribe & Save customers.
PREMIUMISATION
In addition, zooplus has developed own premium brands that cater to the growing sector trends of pet humanisation, premiumisation and preference for niche and craft brands.
For 2021, zooplus expects to maintain its market-leading position in Europe and plans to keep its revenue retention at the year-end 2020 level.
With a highly attractive market outlook, driven by a number of factors including the increasing number of pets, pet humanisation, premiumisation and continued shift to online sales, zooplus plans to further expand its market share in this fast-growing category.
In 2025 zooplus expects to achieve sales of €3.4bn to €3.8 bn, capturing a market share of 9% to 10% of the total pet supplies market (online and offline combined) in Europe.
Dr Patt said: "We are perfectly positioned to outgrow the general market and win market share focusing on e-commerce, the fastest growing channel in our category…We will continue to execute on our strategy and are highly confident about our newly communicated targets for 2025 and beyond."