A pet food store in Southampton is offering customers a three-month health and exercise programme to help their pet dogs lose weight.
Healthy Pet Store in Totton, Southampton, is inviting dog owners to sign up to The Lean Club initiative. Members of the scheme receive expert advice about meals, portion size and healthy exercise, with owners and their dogs being invited back to the store for a weekly weigh-in to review their progress and discuss next steps.
Both the owners and their animals are offered rewards for reaching key milestones along the way.
The weight loss programme was launched on January 10, but owners can sign up at any time for a three-month programme by visiting the Healthy Pet Store.
Managing director Deborah Burrows said: "We are delighted to launch the Lean Club and to help transform pets' lives through healthy weight loss. Leaner dogs live longer with less joint pain and health complications, especially as they get older.
"The programme is to help dogs live a healthier and happier life. All we ask of the owners is to commit to coming in for a weekly weigh-in and to keep hold of their visual tracker."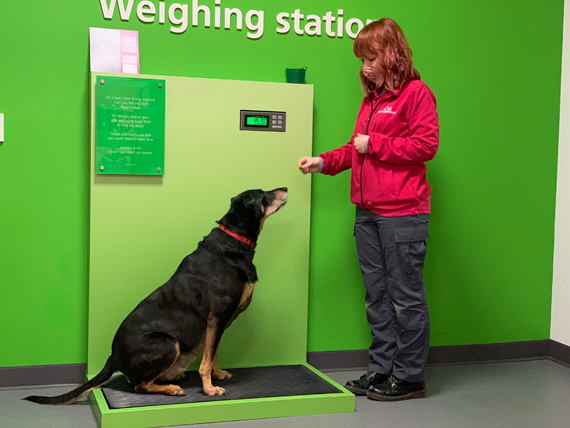 Customer advisor Bianca Taylor helping Misty with Healthy Pet Store weighing scales