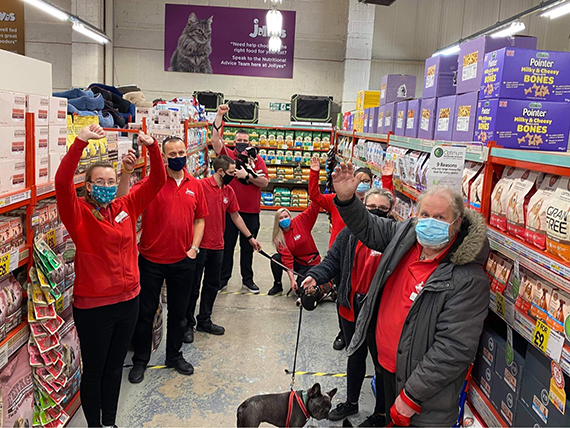 Jollyes' store on the Isle of Wight is celebrating its 25th anniversary this month – even if the champagne is temporarily on ice because of the pandemic!
It may not be in the most picturesque location on the island, but Jollyes in River Way Industrial Estate, Newport, is not only one of Jollyes' top 10 stores, it also holds the record for having the highest Pet Club membership of any of the retailer's 67 outlets across the UK.
Led by store manager Mark White, the team of eight 'colleagues' offer expert help and advice on all types of animals, from dogs and cats, birds and lizards, to chickens and donkeys.
Mark joined shortly after the store opened and this month notches up 25 years' service with Jollyes, one of only five colleagues to do so across the country. He even met his wife, Helen, at the store when she worked there and romance blossomed in the aisles.
Mark has been manager since 2018 following the death of his predecessor, Tony Bunce, who opened the store as manager in 1996.
EQUINE PRODUCTS
Jollyes, Isle of Wight, is unique. Unlike other Jollyes stores around the country, it does not sell any live animals, but it more than makes up for that through sales of food and accessories, not just for pets but smallholders' animals, too. Last year it launched a new range of equine products.
And its customers have some distinctive habits. Islanders' love of feeding garden birds has put the store in the top three Jollyes nationwide for sales of wild bird food. And it is not just birds they look after, they also buy feed for the red squirrels, which are one of the wildlife highlights of Isle of Wight, one of the last refuges for the animals in the UK.
Down the years, the store has lent its support to animal charities including the local branch of the RSPCA, Ability Dogs 4 Young People, Friends of the Animals and the Isle of Wight Donkey Sanctuary.
Regional manager Matt Godwin said: "The Isle of Wight store is one of our stars and it's all down to Mark and his colleagues. They're a really friendly team and they know most of their customers by name. If anyone needs expert advice on a particular animal, there's someone there to help.
THANK YOU
"We want to say a big thank you to all the colleagues and customers in Newport. Lockdown rules mean we'll have a low-key celebration this week, but as soon as we're able to, we'll celebrate in style."
Store manager Mark said: "We've got a very loyal customer base here at the Newport store, some of them have even been visiting since we opened in 1996, and we're truly grateful to each and every one of them for choosing us and helping us grow.
"I would also personally like to thank all members of staff, both past and present, who have all helped towards the success of the store. We all look forward to seeing everyone over the next 25 years, as well as the menagerie of pets who regularly visit the store."
Like all Jollyes, the Isle of Wight store has remained open as an essential retailer during the pandemic, with a robust cleaning regime and health and safety measures in place.