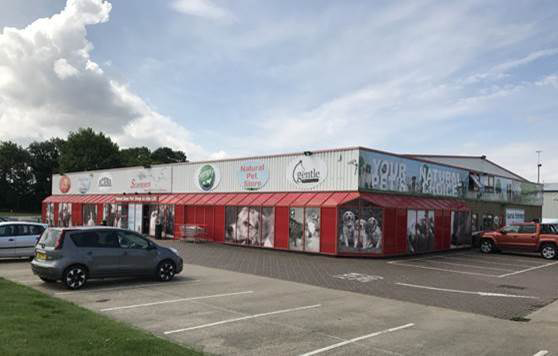 Raw pet food business Natures Menu has revealed the next winner of its new Retailer of the Month award to celebrate the work of retailers across the pet industry that have adapted during the pandemic to implement effective safety measures.
Independent pet superstore Scampers is the second recipient of the award.
Cambridgeshire-based Scampers realised early on that it needed to be nimble in its responses to the pandemic and has been sharing its best practices with others in the industry.
Natures Menu said the Scampers team had been on board throughout the pandemic and continued to work hard to ensure the best possible retail experience for its customers.
Scampers has implemented an array of measures in response to the pandemic including kerbside service, whereby team members shop on behalf of vulnerable or self-isolating customers, delivering their shopping directly to their car boot, which means customers don't even need to get out of their cars.
Scampers has also recently been named the Most Dog Friendly Pet Shop in Britain in the 2020 Dog Friendly Awards, owing to its extensive instore offering such as a tasting table and Dog Bowl Deli. The store also won joint Gold in PetQuip's 2020 Awards, with the judges describing the store as an incredible independent business that deserves success and recognition.
SALES INCREASE
Since lockdown, Scampers has been opening six days a week, using the remaining day working on developing its offering.
The store has taken on two new staff members during the pandemic and seen a 22% increase in sales.
Piers Smart, managing director at Scampers, said: "We're thrilled to be recognised by Natures Menu for our efforts during this unprecedented year.
"Prior to the new regulations, Scampers was dedicated to optimum hygiene and offered sanitiser inside and outside of the shop, so we realised very early on that we needed to embrace the situation and make the necessary changes to ensure the safety of our team and customers.
"We're looking forward to what 2021 will bring and will continue put the safety of our team and customers first."
James Langan, managing director at Natures Menu, said: "We are pleased to recognise Scampers with our new Retailer of the Month award. It's clear to see the passion that Piers and the whole Scampers team has for the store and the industry, and it's refreshing to see the company go above and beyond for the safety of its customers.
"We look forward to working with independent retailers throughout 2021 and celebrating their efforts on the journey back to 'normal'."