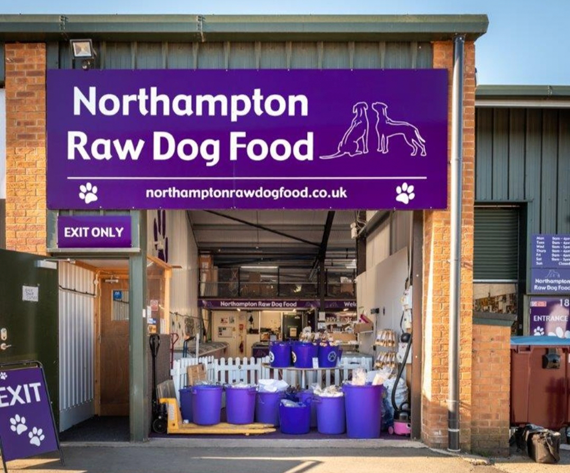 A thriving raw pet food retailer has been forced to put ambitious expansion plans on ice because of problems finding larger premises.
Demand has outstripped space for Northampton Raw Dog Food but attempts to discover a new building has left owner Zena Taylor frustrated.
"I'm constantly being knocked back by landlords," said Zena. "They don't understand my business – some even think I'm running a slaughterhouse. Others don't want dogs on their premises. It's a nightmare.
"I've invited landlords to visit my current premises to witness how well run we run our business. We are odour-free and mess-free, but it has made no difference. I feel disheartened and very upset."
Zena started the business – nicknamed 'Iceland for pets' by customers – four years ago after struggling to find a supplier of raw food for her two Rhodesian Ridgebacks. Initially, she was helped by daughter Cerys but then the business took off as more people became pet owners during the pandemic. Now she employs 12 people, including a shop manager.
"I'm surprised at the rapid growth of the business," said Zena. "It all started when I bought two freezers so I could buy raw food in bulk for my dogs. The freezers were installed in the showroom of my husband Marcus' carpet business in the village of Blisworth near Northampton. Word soon got around that I had a supply of frozen pet food, and dog owners started to come and have a look at what all the fuss was about. Now I have 32 chest freezers and one large walk-in freezer."
With more room needed to house the growing number of freezers, Zena persuaded Marcus to move his carpet showroom to a different unit in the village.
Zena's business now stocks more than 30 different brands of raw food for cats and dogs. All her team are animal lovers and passionate about their health and well-being of customers' pets.
"The success of my business depends on customers being allowed to bring their cats and dogs along with them," said Zena. "My dogs and a friend's three Basset Hounds are also on site during opening hours, and they have become celebrities, with customers wanting their photographs taken with them.
"Despite all the setbacks I'm still confident of finding new premises that allow pets to visit. Surely, there is a dog-loving landlord in Northamptonshire willing to give us a chance."