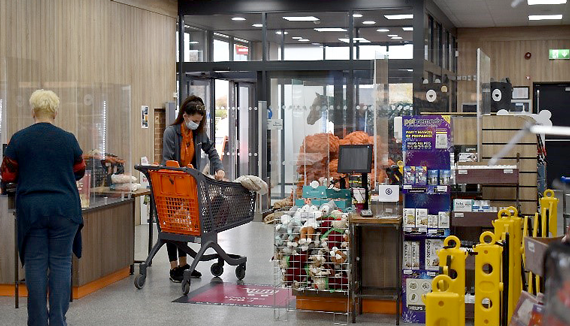 Leading UK raw pet food business Natures Menu has launched an award to celebrate the work of retailers across the pet industry who have implemented effective measures to protect their business during the covid-19 pandemic.
Petplace, a pet retail chain with sites across North Wales, is the first recipient of the Natures Menu Retailer of the Month award. The retailer has put a number of initiatives in place to safeguard its team and customers, while continuing to grow its business despite the effects of the ongoing lockdown.
With support from Lloyds Bank and the Coronavirus Business Interruption Loan Scheme, Petplace is redeveloping its Llangefni store into the first 'Covid-19 store'. It will introduce a play park, coffee bar and a cinema for dogs as well as installing a number of health and safety measures such as new till screens, signage and wider aisles.
CREDIT
Petplace is also the first business in the UK to install Record FlowControl –  an automated system that controls the numbers of customers in the store – in three of its stores, Abergele, Chirk and Mold. It has also installed a cloud-based telephone system so the team is able to work from home.
James Langan, managing director at Natures Menu, said: "We are pleased to recognise Petplace with our very first Retailer of the Month award, due to its early efforts to protect its team and customers throughout the pandemic. It's a credit to Sion and all the team at Petplace that they are able to lead the way with their investment into new Covid-19 stores.
"We look forward to celebrating the work of retailers throughout the pet industry making steps to protect their businesses in light of the new regulations."
Sion Pritchard, managing director at Petplace, said: "We're honoured to receive this inaugural award from Natures Menu in recognition of our efforts to keep petplace a safe place for both our customers and team.
"These have been unprecedented times but, with the support of our loyal customers and hard work of dedicated team, we can confidently move ahead with a bright vision for the future focused on health, safety and wellbeing of our pets and our customers."