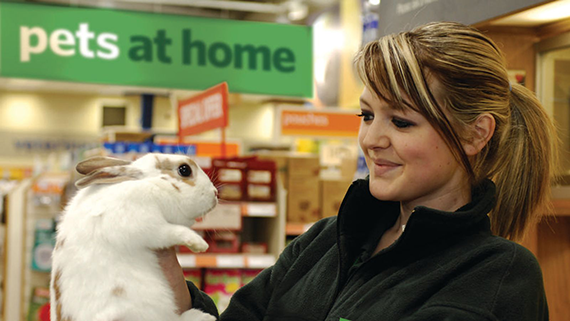 More than 500 Pets at Home staff could share in a potential gain of £11.7m from the company's Sharesave Scheme.
Workers who have been putting money into the scheme every month since 2018 have seen the value of their investment increase almost fivefold.
Staff were given the opportunity to save between £5 and £500 a month to purchase Pets at Home shares at a fixed price of just over 94p, a 20% discount to the prevailing share price at the launch of the scheme in 2018. The share price on November 30 this year had increased to £4.654.
On average, staff have invested £148 per month, totalling £5,345 since launch. The average scheme is now estimated to be worth around £26,400, resulting in a potential gain of £21,000. A colleague contributing the maximum amount of £500 per month, saving £18,000 in total, could now own shares worth around £89,000, a potential gain of £71,000.
Share plans form a key pillar of Pets at Home's staff engagement strategy. July 2020 saw the maturity of the first Restricted Stock Plan (RSP) which offered free shares to all colleagues across Pets at Home's stores, Groom Rooms, distribution centres and support offices. The second RSP award matured at the end of May 2021, and in June this year the company granted a further award of RSPs, for the fifth consecutive year, to over 9,000 colleagues to increase share ownership across the business. The next award is due to mature in summer 2022.
The potential for high returns across both the RSP and Sharesave Schemes has driven good levels of interest from colleagues, with take up of the most recent Sharesave Scheme, offered in September 2021, at the highest engagement rate since the first issue in 2014.
Louise Stonier, chief people and culture officer, said: "At Pets at Home, colleague share ownership is hugely important to our company culture. Our colleagues are so dedicated to supporting our customers and pets and I'm delighted that they are able to share in the value that we create together. It is wonderful to see colleagues participating in share plans across the company and to hear what they plan to spend their well-earned money on, especially when it's just in time for Christmas."
A staff member from the Walton-on-Thames store, who saved £500 a month, said: "Sharesave is a really good way for colleagues to share in the successes of our business.
I am going to use my potential earnings to put down a deposit on a property and buy a new car."
Other colleagues from across the business already have plans in place for their potential gains including purchasing a holiday home in Cyprus, setting funds aside for their children's university fees, taking the first step on the property ladder, booking a once in a lifetime holiday and taking on a property project to create their dream home.
Calculations were estimated and based on the closing share price of £4.654 on November 30.