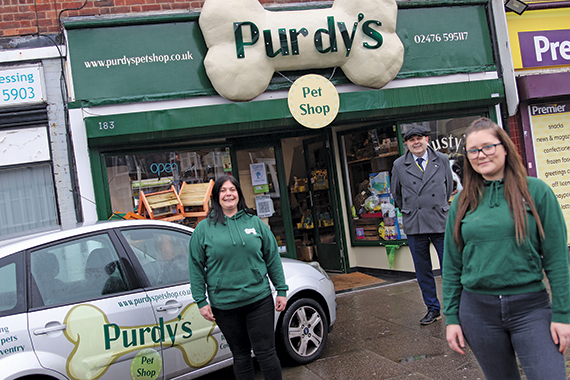 An animal-loving teenager, who has spent the past 12 months volunteering at a recently-opened pet store, has been taken on as a full-time apprentice.
Eighteen-year-old Halle Forster helped out at Purdy's Pet Shop in Radford, Coventry, shortly after the business opened in January last year.
Shop owner Becky Harrington was so impressed with her contribution that she has now taken her on full-time as an apprentice.
Becky said: "When I opened the shop, I decided I wanted to give a young person the opportunity to get into this sector, someone with a different energy and dynamic, and new ideas. Halle had been volunteering with us and proved her worth so I decided to take her on."
Just weeks after Becky opened Purdy's Pet Shop the covid-19 pandemic struck so Halle's help has proved invaluable.
"It was a stressful time at the beginning, especially as we were trying to promote the business when the first lockdown was imposed," added Becky. "But we somehow managed to get through it, and having Halle around was great.
"I got into the pet industry through volunteering at Dogs Trust so I was more than happy to give Halle a chance when she contacted me."
During her apprenticeship Halle is studying Animal Care and Welfare Level 2 through WCG, formerly the Warwickshire College Group.
She said: "When I finished school, traditional college studies didn't really appeal to me so I'm really happy to have found my way onto this apprenticeship. I feel I'm learning so much from being in the shop day-to-day, and will be able to build on that practical experience through my apprenticeship studies.
"I've always loved animals. I've ridden horses since I was three and have dogs too, so it's a natural progression to me to be working with animals."
Having negotiated a tricky first year of Purdy's Pet Shop because of covid-19, Becky hopes to move the business forward at a faster pace once restrictions are eased.
"Putting Halle onto an apprentice is key really, because I want to really push forward into grooming and care, and to work with live animals it's essential that as a team we have the required expertise and knowledge. What Halle will learn during her apprenticeship will be vital for the information that we pass on to our customers," said Becky.
WCG is the largest college training provider for apprenticeships in the Midlands, training more than 2,500 apprentices each year and working with over 1,100 employers.