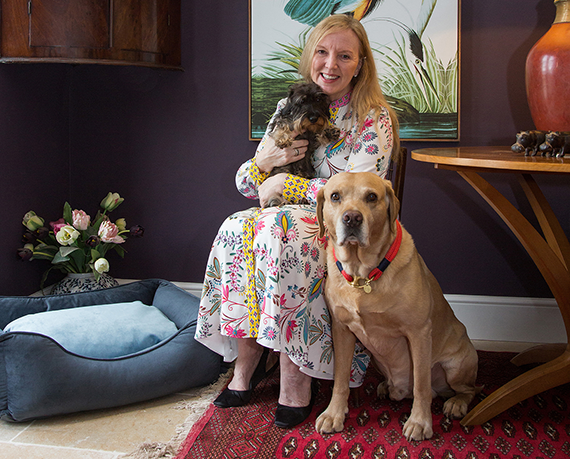 An entrepreneurial former retailer and founder of luxury pet brand Hugo & Otto has started a new sister business – Dog Company or DogCo for short.
Former BA cabin crew trainer and interior designer Caroline Bate started Hugo & Otto in 2014 via a bricks and mortar boutique in Tarporley, Cheshire.
But it wasn't plain sailing and Caroline told pbwnews: "They say you learn by your mistakes and I've made a few! If only I'd had the crystal ball…but who knew Brexit was looming nor a pandemic."
Caroline said she had 'huge problems' importing products from Germany with a pound devalued against the Euro and shipping costs were making it impossible to import from New York and California.
"So I looked at manufacturing our own dog beds and created our own brand in the UK and re-invested into my business and created our first collections for Hugo & Otto."
POSH
She launched at Daylesford Organic Farm, in Gloucestershire, and closed her high street store to concentrate on online sales and her own products.
Many people love our brand and buy without hesitation, others just cannot afford the price point," she said. "The price point is a difficult one as our fabrics are outstanding and the same fabrics you would purchase for your posh lounge. And so I knew I had to take a step change somewhere if I was to keep going."
So she created Dog Company – 'the baby sister brand to Hugo & Otto' – to offer an affordable dog bed product with the same British manufacturing.
"And then along came covid-19 and that put the stop on everything…or did it? I was determined to find a way, I'm not ready to hang up my paws yet and so we launched."
Dog Company launched just before Christmas 2020 with the Highlands, Ireland, Kent and Cornwall beds, retailing at from £53. It now has 12 collections.
LOWER PRICE
Caroline explained: "DogCo is a separate company to Hugo & Otto and the reason for it was to offer right across the board every type of dog bed and bedding made in our same high quality way but offering a lower retail price for the consumer…
"Dog Company offers everything from essential waterproof mattress pads for soggy doggos from as little as £35, multi-purpose, robust waterproof car boot dog beds with detachable bumper protectors at £79 and affordable pillow cushions at £53 through to luxury ranges where you can mix up colours of cushions with the main beds from £79 to gorgeous dog crate sets."
"Still British made, right down to our logo labels and packaging that are British sourced and made, still designed by myself a qualified interior designer, and made in the West Midlands by one of England's longest-established dog bed manufacturers together offering more than 37 years of experience in manufacturing and design.
"We achieved our accreditation to Made in Britain four days into the first lockdown and we continue to design and bring out new collections."