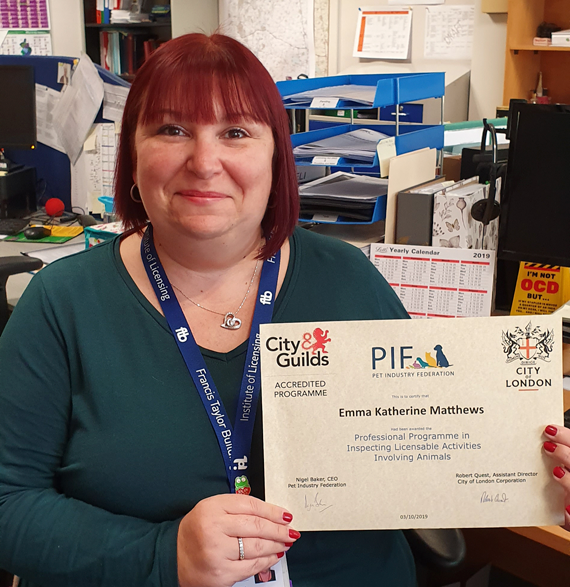 The Pet Industry Federation's joint animal establishments inspector training course, run in collaboration with the City of London Corporation, will result in formal City & Guilds Level 3 qualification from next July.
Since October 2018, the new Licensing of Activities Involving Animals regulations require those carrying out inspections to be appropriately trained. The 'Professional Programme in Inspecting Licensable Activities Involving Animals', a Level 3 equivalent course issued by City & Guilds, has been running to full capacity since it launched at the end of last year and was specifically developed by animal health inspectors and education experts to address this new legal requirement.
The course provides inspectors with training to ensure the legislation, its guidance and animal welfare requirements are understood and implemented.
Vicky Skinner, PIF education manager, explained: "While the inspector training course had already been approved by City & Guilds as a 'Level 3 equivalent' and, therefore, unequivocally met the requirements in the legislation, we're delighted that our collaboration with City & Guilds and our colleagues at the City of London Corporation has enabled this course to become a regulated Level 3 qualification from July next year.
"It means that inspectors who achieve it from that date will be able to add a qualification to their name. Furthermore, inspectors who completed the original course prior to July 2020 will also be able to convert to the qualification by undertaking an additional assessment to meet the qualification requirement."
WEALTH OF KNOWLEDGE
Since the licensing training began, the first inspector to have fully completed every element of the course and achieved the certificate has been revealed. Emma Matthews, from East Northamptonshire Council, undertook the training at Heathrow's Animal Reception Centre in March this year and has worked hard since then on the coursework element of the training before submitting her work for assessment.
She said: "I have loved every minute of this training – the five days at Heathrow Animal Reception Centre gave me a wealth of knowledge and I have learnt so much through my own personal development, and considered things in my animal licensing work that I never would have considered before.
"The more licensing officers who achieve the certificate can only be positive as it directly benefits the standardisation of the regulations across the country, thereby instilling more confidence in licensed businesses."
Rob Quest, assistant director at the City of London Corporation, added: "The City of London Corporation has been really pleased with the success of the animal establishments inspector training course, both in the way it robustly prepares inspectors like Emma for the licensing regime we now work under in England; and now that it will become a formal Level 3 qualification.
[Becoming a qualification is testament to the quality of the original course formation, particularly in terms of teaching and assessment and, in doing so, it strengthens the provision of this mandatory training in order to enable licensing officers to sufficiently discharge their duties under the new legislation."