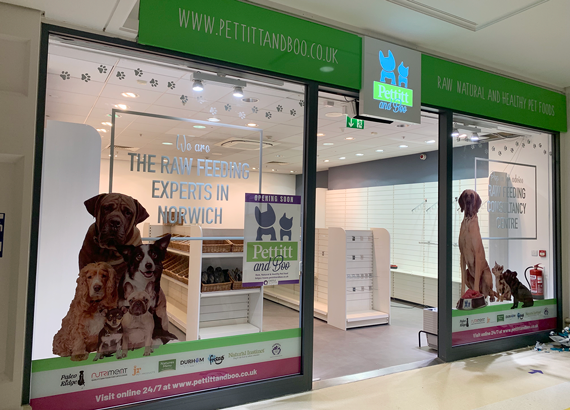 A pet shop business is continuing to grow at a fast pace with the opening of a third store in May.
Husband-and-wife team Adrian and Ali Pettitt, who run Norfolk-based Pettit and Boo and Fido's of Hellesdon, are unveiling their new store in a busy central Norwich shopping centre.
Alison Pettitt said: "We're excited to be opening at Castle Quarter. It's the perfect location for us, with high footfall, and easy parking, and we can't wait to meet new faces and start talking to new customers about the best, healthiest options for their much-loved pets.
"Our niche is offering the tastiest, healthiest, all-natural dog food and treats that are packed with goodness."
Two new members of staff have been recruited to work at the Castle Quarter store, which will also be called Pettit and Boo.
Dog owners who are concerned about their dog's diet can book an appointment for a one-to-one consultation with a canine nutrition advisor. Offering tailored advice about what and how much to feed for optimum health and weight, the advisor can discuss the benefits of a raw food diet and create meal plans for dogs who are fussy eaters or have special dietary needs.
The store will also feature a fun pick 'n' mix section, so shoppers can scoop up a variety of dog snacks and chews to take home, including hairy cows' ears and fish bites. To reduce waste, all treats will be packaged in paper bags.
It has been a busy period for Adrian and Ali, who started the year by buying and safeguarding the future of Fido's Pet Bazaar, located four miles away from their first Pettit and Boo store on the outskirts of Norwich.
"We were casually thinking about the Castle Quarter store when we took on Fido's," added Ali. "We reached out to the shopping centre owners in February and they happened to have a great shop coming available. They felt that a pet store would be an interesting offering in the shopping centre,
and certainly unique within the city centre."
The forward-looking couple have their eyes set on further expansion with new shops in different locations but admit they couldn't make it all happen without great staff.
"We are incredibly fortunate to have managed to employ not just 'regular' retail staff, but team members who are dedicated to the pet care industry," said Ali.