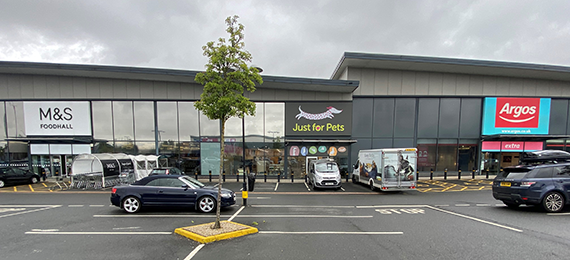 The opening of new premises in Evesham marks the end of an era for Just for Pets as the retail chain completes its four-year plan to give all of its stores an improved look and feel.
The Evesham store has moved site from a town centre location to a new shopping park, and boasts all the features that have proved popular at other Just for Pets sites.
The Just for Pets group of stores has come a long way since it was 'saved from extinction' in 2017. Previously tired-looking stores have been revamped thanks to big investment, and despite the enormous shock of the coronavirus pandemic, there is now a great deal of optimism about the brand's future.
Store manager Jon Hodgkins said: "We hope all our customers will continue shopping with us at Evesham Shopping Park, after years at Swan Lane. The move was a difficult decision but parking issues, development plans in the area and Aldi leaving a few months ago, made the move necessary.
"The new store features the latest Just for Pets design, which is looking amazing, and customer feedback so far has been excellent."
Just for Pets has welcomed a number of new team members as part of the move. They will be enrolled on an in-house training programme developed by Hannah Molloy of Channel 4's Puppy School.
Hannah said: "I am so excited by this company. Not only do they embrace quality nutrition from raw food to natural treats but they also put pet welfare at the top of their agenda. I've had the honour of building their skills and knowledge about animal training and behaviour soon you will get to visit Just for Pets and learn how to understand and train any animal from dogs to cats, rabbits, lizards and even fish."
The Just for Pets chain of 18 stores is also on the lookout for new sites. General manager Paul Lewis said: "We have turned the business around and while this isn't part of any mass expansion plan we want to continue to grow the business, recognising there is a demand for our proposition."