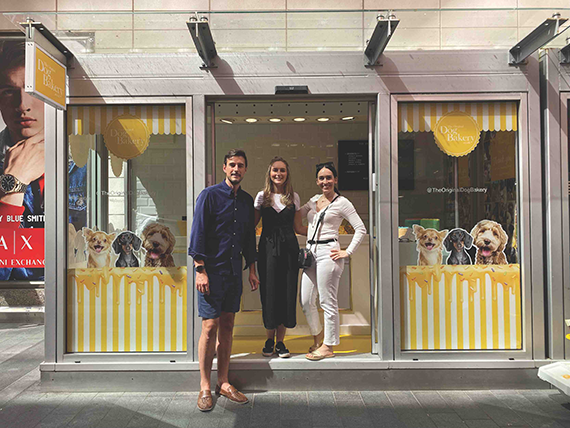 The Original Dog Bakery has moved into its first long-term trading space at Liverpool One, marking an important milestone for the start-up.
Previously operating from a mobile tuk-tuk at the destination, the bakery has been supported by Liverpool ONE to build its profile. The up-and-coming business has reported a 56% sales increase since opening at its new kiosk on Wall Street.
Established in Liverpool, the business specialises in 'fresh and nutritious patisserie-style baked products, all lovingly handmade for dogs'.
Baked with 'insight into canine health and wellbeing', the bakery's goods are all created entirely from natural ingredients, with no added salt or sugar. The kiosk's treats range from cookies, brownies, and doughnuts, to crunchy popcorn and six-inch birthday cakes.
LONG-TERM
The opening of the Wall Street location coincides with the three business founders, Daniel Carroll, Caitlin Carroll and Eilish Clarke, leaving behind jobs in other fields to focus on the bakery concept full-time.
Alison Clegg, managing director, asset management, Grosvenor Britain & Ireland, said: "The Original Dog Bakery has been a huge hit with visitors since first introduced in its tuk-tuk configuration. We are pleased to have supported this local business in building a loyal customer base and to have helped The Original Dog Bakery to debut in a long-term home."
Daniel Carroll, co-founder of The Original Dog Bakery, added: "Liverpool ONE has played a key role in driving and supporting the rapid growth of our business since we launched less than 12 months ago, so it made sense to put down our roots at the destination.
"It is fantastic to have exposure to Liverpool ONE's comprehensive tenant support and marketing platforms to take this step as a business, and the high level of foot traffic from our new home on Wall Street is already driving a considerable increase to our sales."
Liverpool ONE is set in the heart of the city and offers a 1.65 million sq ft open-air complex with more thans 170 stores, bars and restaurants, a 14- screen cinema, an indoor golf course and a five-acre park.