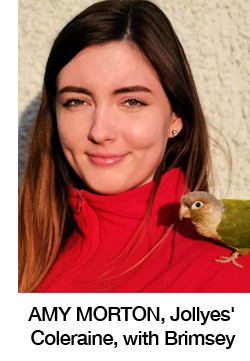 Sales of pet birds, including parakeets, budgerigars and canaries, have surged during lockdown as people have craved the companionship of a feathered friend, says pet retailer Jollyes.
The nationwide business, with 67 stores, has seen demand for birds increase sharply across the country over the past year. Hotspots include Ballymena and Derry/Londonderry in Northern Ireland, Halifax and Leeds in Yorkshire and Bridgwater in Somerset.
The most popular birds have been canaries, with sales up by almost two-thirds, budgies up by over 50%, finches and parakeets up by around 40%, and parrots up by a third.
Hand-reared birds in particular enjoy human company and thrive on attention, which makes them popular pets, says Jollyes. Depending on the species and breed they can entertain their owners with chirruping, chatter and song, while some become superb mimics.
MASSIVE
Ballymena store manager Ryan Godfrey, whose expertise has seen him dubbed 'the birdman of Ballymena' by colleagues, said: "We've seen interest in birds grow and grow and now it's massive.
"In these times when you can't get out and have human contact, the next best thing is a pet and a bird is definitely a good choice for those who want companionship. Certain birds can be very intelligent, and they have their own personality. You can 100% form a bond with a bird."
Although birds make good family pets, Ryan has noted they are particularly popular among older customers who have the time the birds need to build companionship.
"For a lot of them, it's more than just a pet, it becomes a hobby and they take enormous pride in it," he said. "There is a huge hobbyist community and even if they can't currently meet up at shows, they have online groups where they can show off their set-ups and exchange advice."
BREEDERS
The majority of Jollyes' stores sell birds, sourced from trusted breeders, and all of them sell bird food and accessories. Expert staff are on hand to offer customers advice on what type of bird might suit them, what kind of cage or aviary they need, and how to feed and look after them.
Jollyes' commercial director, Chris Burns, said: "Interest in keeping birds as pets has risen dramatically during lockdown and it's become a nationwide phenomenon. There's evidence that keeping a pet bird is good for the owner's health and well-being, reducing stress and keeping the brain active and our customers up and down the country seem to vouch for that."