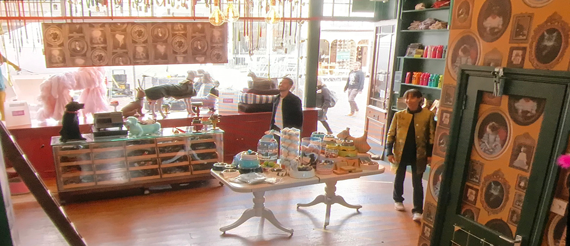 The owner of a boutique pet shop featured in the BBC TV series 'Interior Design Masters' says she loves the results of the makeover.
Catherine Parr, of Collared in the fashionable Pantiles area of Royal Tunbridge Wells, said on her Instagram feed that she was delighted that designers Charlotte Beevor and Siobhan Murphy had made it through to the next stage of the design competition.
"We loved our makeover (particularly the cupboards). You worked so hard and totally got us. Well done!" she said.
Collared was described on the programme, aired this week, as a 'stylish dog accessory and gift shop for dogs and dog lovers', selling quality products from around the world, including those from Henry Wagg, Rough Wear and Flexi.
The brief was to design somewhere that had a sense of 'fun, optimism and energy' with its own eclectic character and with a scheme that would bring joy to all.
LISTED
The exterior of the building was listed, which meant the designers in the reality TV competition had to concentrate their efforts on the interior elements.
On screen Catherine chose the design put forward by Charlotte for the shop, but with elements from the second designer, Siobhan, who was also working on the project.
Charlotte said she her aim was to create a 'heritage vibe' for the shop but with a more modern and colourful twist. The wallpaper was a particular feature.
"The Victorian wallpaper was the only paper we couldn't source in time but we managed to find a replacement. But there was a slight problem," said Charlotte.
"This option had deer as well as dogs, which obviously wasn't appropriate, so I sprayed over their heads to make the wallpaper solely dog focused.
"We loved it and had a blast wheeling round the shop on giant scaffolding!"