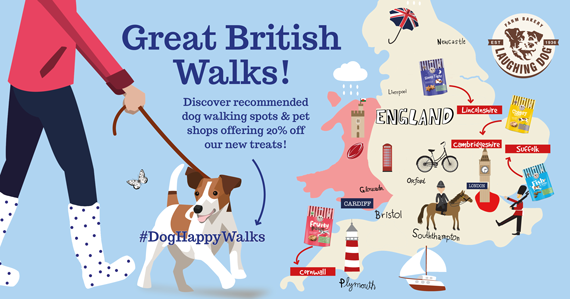 Local pet shops are to be supported as part of a new dog walking campaign from pet food company Laughing Dog.
The Great British Dog Walks campaign hopes to encourage dogs and owners to enjoy long walks this autumn, taking breaks along the way to visit nearby pet shops and receive 20% off products.
The company's canine bloggers and social pages will be recommending covid-safe and dog friendly walks in Lincolnshire, Cambridgeshire, Suffolk and Cornwall.
Pet owners following the walks will also be encouraged to visit nearby pet shops, where they can quote 'dog happy walks' in order to receive a 20% discount off the company's new treat range.
Rachel Grant of Laughing Dog said: "As the covid-19 pandemic continues, we know how important it is to continue to support our pet shops and their customers with ideas for keeping active and safe – and we know that long dog walks is how pet-parents are best preferring to spend their downtime."