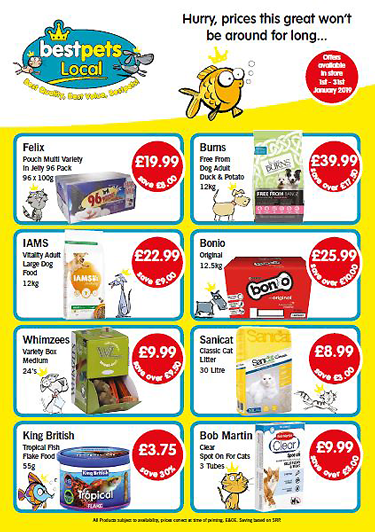 Specialist wholesaler Bestpets has launched new consumer-facing promotional material to help its Bestpets Local Retail Club customers to drive sales and to help suppliers raise awareness of their products among consumers.
The new collateral includes a resized monthly consumer flyer, new shelf-edge labels and redesigned A3 posters. The January redesign has enabled the national pet wholesaler to add an extra promotion to each of its 12 annual promotional periods.
Peter Brame, director of trading – pet, said: "Our Bestpets Local Retail Club is designed to help drive footfall, increase profit and raise the profile of independent pet stores through keen promotions and impactful point-of-sale.
"We are always listening to customer feedback and looking for new ways to develop the Retail Club offer. This redesign has been about improving the value proposition our retail customers can offer consumers, by increasing the number of deals advertised in our monthly promotions and using the most value-creating colours.
"A simple change like this can have a great impact for customer sales and also supports our suppliers with more space for promotions and a special monthly feature to highlight product features and benefits for one leading deal."
Tony Charlton, of Tony's Pet & Garden Supplies, in South Shields, added: "Consumers like the red pricing as it stands out. The posters are bright and stand out overall, too – they catch the eye of customers passing by and are easy on the eye.'"
The new collateral is available to all Bestpets Local Retail Club customers via the Bestpets website or their local depot.