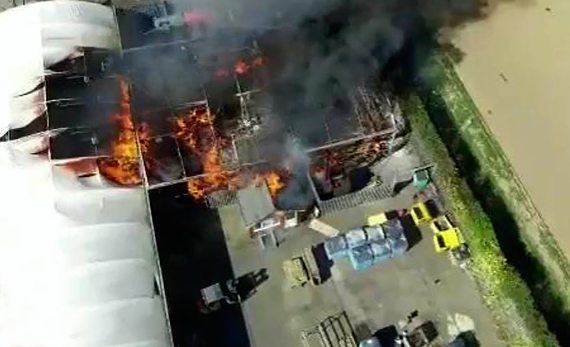 Staff at a Lincolnshire pet store rescued animals from a blaze that ripped through the premises on Sunday morning.
Six guinea pigs, nine hamsters and one rabbit were rescued as the fire broke out at Boston Aquatics and Pets, which is located at Johnsons Garden Centre in Fishtoft.
Footage captured by police drones showed the fire tearing through the back of the garden centre, creating plumes of smoke visible for miles.
Boston Aquatics and Pets said on its Facebook page: "Amidst all the craziness, we have just had a fire scare. But just to let everyone know, we managed to get all the animals evacuated safely, and all of our staff are safe.
"Our team are so awesome for getting all the animals out so quickly, and for most importantly getting themselves out so quickly, too."
In a later Facebook post, the store added: "Although Sunday's fire was scary, it is over now. Our main building is completely unscathed, and we will continue counting all of our blessings."
Video footage of the fire captured by police drones can be viewed by clicking here.