Two International multi award-winning dog groomers have been revealed as judges in the forthcoming BBC reality show Pooch Perfect.
Verity Hardcastle and Colin Taylor are to join celebrity host Sheridan Smith for the show, which searches for the UK's top dog stylist.
Filming for Pooch Perfect begins in August, with the series expected to air on BBC One early next year.
Colin Taylor first hit TV screens in 2019 in Australia, when he appeared on the Network 7 version of Pooch Perfect. He has worked at the top of the grooming profession for more than 25 years, spending time in Hong Kong and the United States. He is one of the most 'decorated' of dog groomers, holding titles such as Intergroom's International Groomer of the Year, winner of the World Cup Grooming Games, and winner of countless best in show and best all round titles. He is also a multiple time member of Groom Team USA.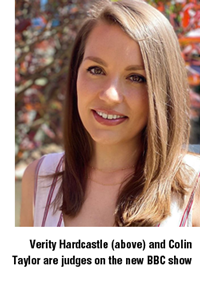 Verity Hardcastle is a certified Master Groomer and a member of the Guild of Mastergroomers. She is a multi award-winning dog groomer at championship level and has recently won top awards at The Grooming Show, Great North Groom, Master Groom, Premier Groom, Love to Groom Scotland and even won first place at Groom Expo in America.
Verity has her own dog grooming business, Verity Hardcastle Grooming and Training, which she set up in 2010. The company has won several business industry awards including twice winning the Pet Industry Federation Grooming Salon of the Year title.
The eight 60-minute Pooch Perfect shows will feature 16 professional dog stylists from around the country as they battle for the title through a series of heats.
Colin Taylor said: "This is the perfect show for the entire family, including furry friends! Not only are the viewing fans going to be seeing amazing grooms, but they'll also get to learn all about the different dog breeds, their individual traits and, most importantly, how to look after them properly. If a dog looks fabulous chances are they feels fabulous too!"
Damon Pattison, creative director of Seven Studios UK, added: "I am delighted that Verity and Colin have agreed to join us as judges on Pooch Perfect. Their credentials are impeccable and their knowledge, skill and love of dogs is second to none. I cannot imagine anything more fun than being in a studio with them, Sheridan and a whole load of scruffy dogs. This is going to be the happiest show and I'm utterly delighted to be bringing it to BBC One."