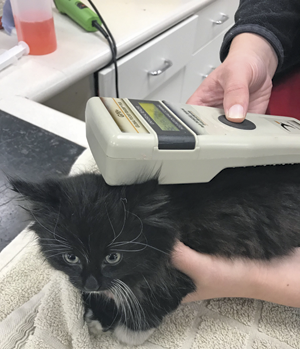 A tiny, 0.6 kilogramme kitten that climbed into the engine of a van has been driven from Liverpool to Newcastle-under-Lyme.
Telecoms engineer Dwayne Ofoeme and his two colleagues stopped at Cambridge Drive, Newcastle-upon-Lyme, to begin work when they heard meowing coming from the van's engine. On realising there was a kitten hiding in the engine, the men attempted to catch him, but he kept disappearing into the vehicle's undercarriage.
After phoning the RSPCA, and an hour of coaxing the kitten, now named Ringo, was caught.
"Despite his diminutive size, Ringo was an extremely vocal little guy who is in good health," said RSPCA inspector Jackie.
"He was such a character and we're so pleased he's ok," said Dwayne.