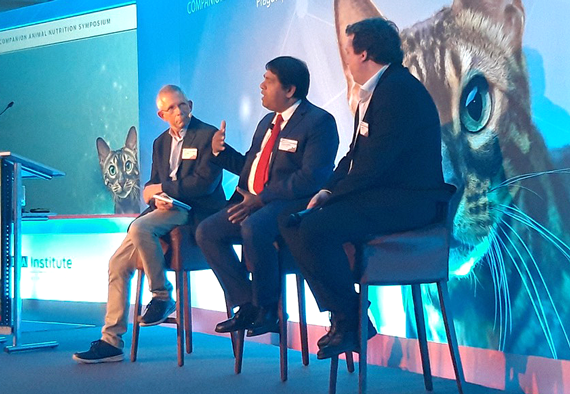 Q and A session at the 2019 Purina Institute CAN Symposium. L-R: Dr Andy Sparkes, Dr.Ebenezer Satyaraj and Dr Enrico Heffler
Scientists presented the latest discoveries about cats to an international audience of feline practitioners, research vets and nutritionists at the first Purina Institute Companion Animal Nutrition Symposium in Europe, in Prague in the Czech Republic.
Among a line-up of global experts who addressed key issues in feline health, Purina scientists revealed a new approach to managing feline allergens that could bring cats and people closer together. This inaugural European symposium was hosted by the Purina Institute, a global organisation dedicated to advancing nutritional science so that pets can lead better, longer lives.
"This first European CAN Symposium offered a dynamic forum to tackle important topics," said Daniel Rodes, regional leader in Europe for the Purina Institute. "Insightful conversations among colleagues are likely to challenge long-held beliefs. Importantly, the powerful scientific findings being presented will help shape the future of feline veterinary medicine and nutrition."
The theme for the scientific program was, 'The Science of Cats: Challenging Perceptions. Changing the Conversation'. Presentations reimagined the power of feline nutrition and included a novel approach to managing cat allergens, revisiting the roles of taurine in cat health, and rethinking feeding behaviours.
Key 'takeaways' from feline experts included:
– The cat-owner bond can be affected by many things, including feline illness or human sensitivity to cat allergens. Current research suggests that nutritional approaches may help reduce those negative factors
– Purina scientists introduced an approach that can transform the way people manage the major cat allergen, called Fel d 1. From a series of published studies, they described a safe and proven approach that reduces Fel d 1 at its source in a cat's saliva, before the active allergen can get into the environment and trigger a response in people sensitized to Fel d 1
– Chronic kidney disease will affect one out of three cats over 10 years of age. Despite the frequency with which vets diagnose this medical condition, the role of key nutrients in feline diets is an area of ongoing research
– In cats, taurine deficiency has long been linked with dilated cardiomyopathy, but the exact mode of action is still not well understood. Studying this amino acid deficiency in cats may help researchers learn more about the new cases of nutritionally-mediated dilated cardiomyopathy in cats and dogs.
– Feeding patterns in cats may be influenced by timing, food texture and food availability. Factoring in these influences can help optimise cat health and well-being while potentially reducing the risk of obesity.