Feeding time at the zoo has never been so exciting for two exotic bird species at Chester Zoo.
The Pekin robins and wrinkled hornbills at the zoo have both been officially adopted by bird seed manufacturer Johnston & Jeff.
Under the arrangement, the East Yorkshire company will donate bird food to the value of £3,000 to the charity zoo each year to help feed the large number of avian species on display.
This frees up extra money to be diverted into conservation and education projects.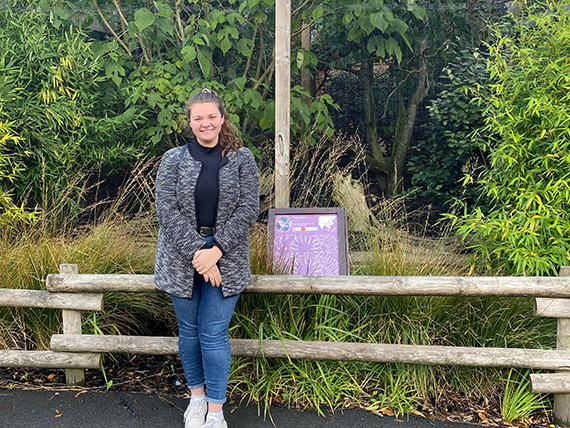 Maddy Johnston, from Johnston & Jeff, at Chester Zoo
Maddy Johnston, marketing and media manager at Johnston & Jeff, said Chester Zoo was involved in some extremely valuable conversation work and supporting that through the global pandemic was a priority for the company.
"Lockdown has been extremely detrimental for all visitor attractions," she said, "but zoos have been particularly hard hit because of the need to continue caring for the animals without the income of the public.
"This means that all the fantastic extra work zoos do – playing a vital role in conservation and providing education programmes – has had to take a backseat.
"Chester Zoo is a long-term customer of ours and we spoke to them about how we could help. Between us, we decided adopting these two beautiful species was a great idea, so that's what we did."
Johnston & Jeff received its official certificates of adoption earlier this month, which have taken pride of place in the company's office in Gilberdyke. Plaques marking the adoption will also be put up in the relevant habitats at Chester Zoo, informing all those who visit the aviaries about the adoption.
Dr Mark Pilgrim, CEO at Chester Zoo, said: "Although the zoo has reopened, which is vital to our future survival, there's still a long way to go before we're fully back on track.
"Our closure due to the pandemic has left a huge £5.5m scar in our finances, so there is no denying that there will be some very challenging times ahead for this great charity zoo.
"We're so incredibly grateful to everyone who has rallied around us. We've been truly overwhelmed by the love, support and kindness that we've been shown. Each and every donation is absolutely crucial to us – helping to make sure we have a future in our mission to prevent extinction."
Adult Wrinkled Hornbills stand around 70cm tall and have a very large bill fused to their skull. They live in the Thai-Malay Peninsula, Sumatra and Borneo, and their conservation status is endangered according to the IUCN Red List.
The Pekin Robin is neither from Pekin nor a robin but is native to south China and the Himalayas. Their conservation status is least concern, although numbers are in decline due to habitat loss.