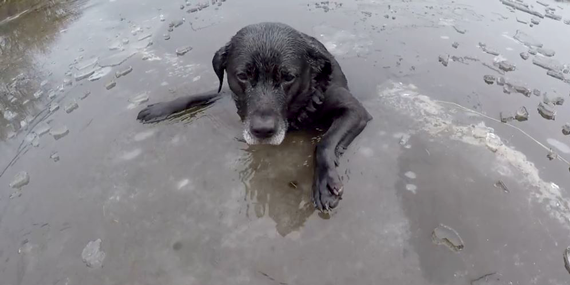 A black Labrador has been rescued after he became trapped in a freezing river.
The RSPCA was called to the River Wansbeck in Ashington, Northumberland by the Fire and Rescue Services.
Inspector Jaqui Miller, who rescued the nine-year-old dog, said: "We were really worried about poor Hardy as he had been stuck in the ice for about an hour in the freezing cold water.
"He had been out walking with his dog walker when he had run into the river, not realising that the minus six degree weather we've had recently had frozen the water."
Firefighters attached Jaqui to a rope and she worked her way across the icy river, sliding on her front to Hardy's rescue using a pick to pull herself along while a GoPro camera filmed the rescue.
"He had a small cut on his paw and was pretty cold but apart from this he was absolutely fine," she said.
Footage of the rescue aired as part of Channel 5's Dog Rescuers' Christmas special on Boxing Day.