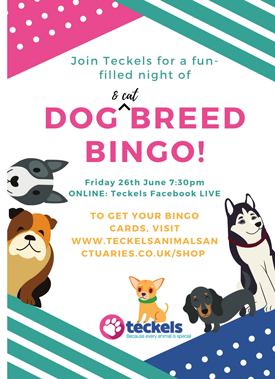 Teckels Animal Sanctuaries, a small, independent charity in Whitminster, Gloucestershire, is raising much-needed funds by hosting online Bingo.
The live online dog-themed bingo offers cash prizes, gin, chocolate and more throughout tomorrow (Friday) evening.
Players buy virtual cards from the charity's online shop at www.teckelsanimalsanctuaries.co.uk/shop then log on to its Facebook page at 7.30pm on the night and wait for the live stream to start.
All funds raised will go to Teckels, which cares for, rehabilitates and rehomes cats and dogs.