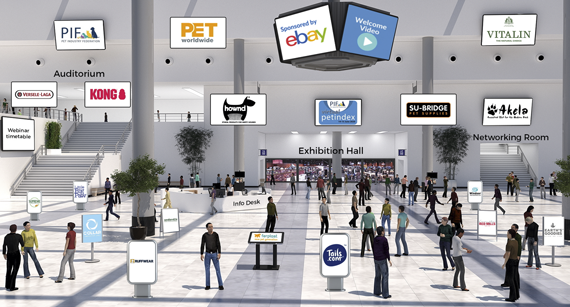 Visitors are continuing to access the Virtual Petindex platform to browse stands and watch the webinars, according to organiser the Pet Industry Federation.
The UK's first virtual trade show, Virtual Petindex, sponsored by eBay UK, held two 'live' days on June 14-15 – but the platform remains open and accessible to registered users until July 15, giving plenty of time for exhibitors and visitors to connect.
Visitors have the opportunity to browse more than 60 stands from the UK and overseas, from countries such as Canada, Germany, New Zealand and Switzerland, and to watch webinars in the 'auditorium', with talks, panel discussions and grooming demonstrations.
Each exhibitor has already received a detailed breakdown of who 'visited' their stand over the course of the live event and will receive a full report and visitor analysis tailored to their stand, once the platform closes completely on July 15.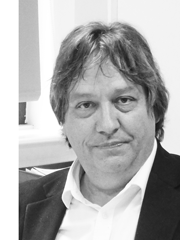 Nigel Baker, chief executive of the Pet Industry Federation, said: "We have been really pleased with the success of Virtual Petindex and the support shown to the event by exhibitors who threw their weight behind this inaugural trade show.
"The experience has been a huge learning curve for us, as well as the exhibitors and, although it was not without some teething issues, the cost-effectiveness of this type of show, and the detailed information gained from visitors to the show will ensure that the virtual trade show has a strong future.
DIFFERENCES
"There are clear differences between a virtual trade show and a traditional one and, while a virtual trade show can't replace many of the networking and social opportunities that a traditional show does, we do believe that a virtual show can offer a new type of marketing opportunity, with an excellent return on investment. Many exhibitors believe this, too, and have already confirmed that they would like to take part in another event."
Peter Roy, of Natures Menu, said: "Obviously we were disappointed to not have a face-to-face conference but, given the circumstances, I thought the event went well; it was my first virtual conference, but probably not my last. We had over 350 requests for information, many from new customers. We are going through the opportunities now, and already opened up eight new stores and over 20 freezer deals so far with more to follow I am sure."
Mark Hirschel, of Hownd, said: 'Two thumbs-up to the team at PIF for successfully creating the UK's first virtual pet trade event.  It can't be easy being the first ones to jump into something so new and there's no doubt that the world of virtual shows is here to stay and will only get better.
BRAND VISIBILITY
"We really had no idea what to expect so was great to hear that we were the third most visited stand over the two days. The chat function worked well and although the video option wasn't used, I can see how it will become more commonplace going forward.
"We are now following up with all our stand visitors and feel positive that we were able to achieve our initial goals of creating sales and raising brand visibility."
Tracy Richards, of Aqueos Care, added: "It was a great experience to take part in the UK's first virtual pet show.
"You could really show your brand off to its full potential. There was a good online spirit between the exhibitors and a lovely follow-up list of contacts at the end of the show. Of course, there was a huge cost advantage with no travelling or hotel costs.  At Aqueos we had numerous new account requests and we saw a spike in our web site visits. Overall, we were thrilled."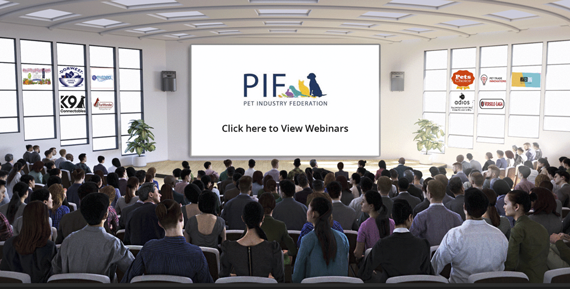 webinars remain open and accessible to registered users until July 15
David Alton, of Little Big Paw, said: "Virtual Petindex proved to be a really interesting, novel and valuable experience.
"The information we have received about visitors to our stand has been really detailed and we can use it to follow up on with individuals and generate new business. We had more visitors to our virtual stand than we would have at any other show, so the return on investment is likely to be excellent therefore, and we look forward to taking part in a future event."
THANK YOU
International exhibitor Collar Company said: "About 250 visitors came to the Collar Company booth, including representatives from 29 countries. It is too early to draw conclusions about the success of the exhibition, but we are satisfied with the attendance of the stand and the representation of countries. Now we are at the stage of processing applications from partners."
And Rik Cridland, of Haypigs!, said: "In unprecedented times, we've got to say a big thank you to PIF for taking a chance on a brand-new trade show format. While a virtual trade show is never going to be the same as meeting people face to face, it did offer some unique opportunities and experiences.
"We enjoyed some fantastic networking, met some really cool brands from around the world and made some sales without having to leave the office! Of course, there's always going to be room for improvement, but you've got to be brave to make that first step, so we commend PIF for leading the way."
Chris Redpath of Connolly's Red Mills added his voice to those who congratulated PIF for a brave move, but said the show was slow on occasions.
He said: "For us Sunday was very slow, with only very limited visitors to our stand. Monday was busier, but still very low numbers, although export discussions were positive."
SPONSOR
And independent pet retailer Piers Smart added: "The first thing that struck us as a 35-year-old specialist bricks and mortar pet care retailer was the main sponsor was eBay!
"Why was this internet company even offered a relationship with a so called 'pet trade' event? Every independent retailer In the UK is having to come up with thought-through models on how to compete with online traders yet PIF decided to make one of the worst offenders their main sponsor!"
Nigel Baker explained that eBay joined Virtual Petindex as its headline sponsor because of the importance of bricks and mortar retailers developing a strong website presence, particularly with the coronovirus pandemic shifting pet owners' shopping habits to online.
eBay had an opportunity to reach retailers at Virtual Petindex and offered discounts during the show to retailers to sell from its platform and support them to improve and grow their ecommerce offering to customers.
He said: "The Pet Industry Federation welcomed eBay's support of the event and felt that Virtual Petindex provided an ideal platform for retailers who wanted to improve their online presence to engage directly with eBay."
The next Virtual Petindex event will be held on Ocober 11-12 this year, with special rates on offer for businesses who sign up early. To book of find out more, email [email protected]
To visit the existing show platform, browse the stands or watch webinars, visit vpetindex.vfairs.com