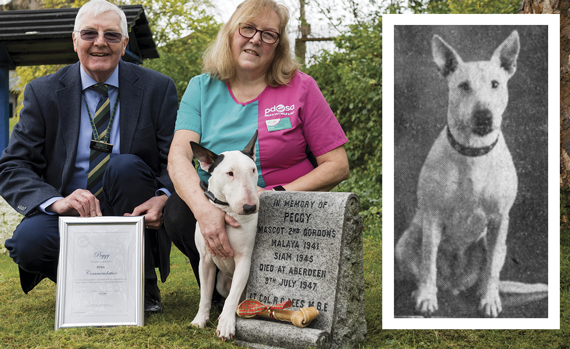 Above: Stewart Mitchell, volunteer historian at the Gordon Highlanders Museum, Billy the bull terrier and PDSA vet Fiona Gregge at Peggy's grave. Inset picture: Peggy, who was adopted by the Gordon Highlanders after being discovered as an abandoned puppy

A dog that comforted captured Scottish soldiers during the Second World War has been posthumously recognised by charity the PDSA.
Bull terrier Peggy became the mascot of the second Battalion Gordon Highlanders after soldiers discovered her as an abandoned puppy in Malaya (now part of Malaysia) during the war and she became a loyal companion as the soldiers fought Japanese forces during the Battle of Singapore in February 1942. After the army's surrender, Peggy and the soldiers were taken as prisoners of war and were sent to Thailand to carry out hard labour.
The dog played an integral role in boosting the soldiers' morale until they were freed following VJ in August 1945. The soldiers even refused to board their ship home unless Peggy could go with them and she lived at the Battalion's barracks in Aberdeen until her death in 1947.
Stewart Mitchell, a volunteer historian at the Gordon Highlanders Museum, nominated Peggy for the PDSA Commendation, saying: "When she saw a Gordon Highlander being attacked, she would fearlessly try to intervene, often at the cost of a blow with a split bamboo cane or worse, a stab from a guard's bayonet. She bore the scars of these encounters for her entire life."
Peggy was given the award by PDSA vet Fiona Gregge at a ceremony attended by fellow bull terrier Billy on Peggy's behalf at the Gordon Highlanders Museum in Aberdeen.