A pet grooming academy offering training courses at its schools in Cheshire and Kent is branching out in Shropshire after securing planning permission to convert an old bank.
Four Paws Groom School, which opened in 2009 to provide professional dog and cat grooming training, hopes to open its doors at the vacant HSBC premises in Market Drayton later this year.
"We are thrilled to gain permission for the dog grooming training school in Market Drayton," said Four Paws director Fern Gresty. "The bank has been unused and unloved for a number of years and our plan is to breathe new life into it."
The new training academy will offer trainee groomers qualifications under a national iPET Network, which is regulated by Ofqual.
"We are branching out to offer more learning opportunities in this growing industry and we identified the Shropshire area as a great location for people living in the Midlands," added Fern, who runs Four Paws with fellow director Sarah Mackay.
"There is a huge renovation project to be undertaken as the building has been empty for an extended period, with areas having fallen into disrepair. However, our plan is to create beautiful office space on the first and second floor, while the ground floor is used for the dog grooming training school, welcoming dogs of all shapes and sizes for a pamper.
"We are mindful of the town's look and from the outside the building will be in keeping with the area, improving the appearance with a minor facelift."
As well as owning Four Paws Groom School, Fern and Sarah are also directors of iPET Network, which they set up three years ago to create regulated qualifications for the canine and feline sector.
They are now looking for more training providers and centres to offer the network's courses across the UK.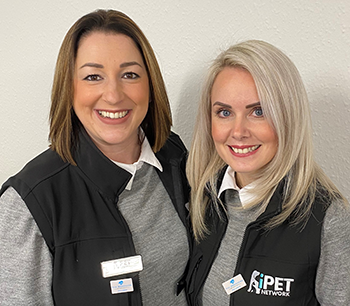 Fern Gresty (left) and Sarah Mackay