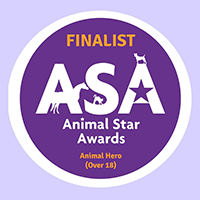 Pet crematorium owner Kevin Spurgeon has been selected as a finalist for the Animal Star Awards 2021 on behalf of Dignity.
"This news has come as a welcome morale boost to myself and the team," he said. "I'm so lucky to have such a dedicated group of people who have been working tirelessly throughout the pandemic and it has been really hard at times.
"Although my name has been put forward, I couldn't do it without the Dignity Team and every single one of them make a positive difference to people after the loss of their pet. We just want to make their experience a comforting and loving one that gives owners peace of mind and helps them in their grieving process."
The winners will be announced at the Animal Star Awards Online Virtual Event on Sunday, March 28.
Dignity has previously been selected as a finalist for the Pet Industry Federation Awards (Pet Service Business of the Year) and for the FSB Celebrating Small Business Awards (Environmental Business of the Year). And Kevin has been awarded an honorary fellowship at the University of Winchester in 2015 for the ethical way in which the business is run.
The Hampshire business is one of the only independent pet crematoriums left in the South of England. It was opened in 1992 by Kevin's late parents, Barry and Carole Spurgeon.