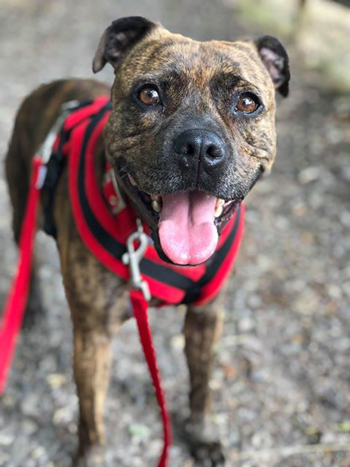 Brindle dogs take longer to rehome than all other colours, according to the RSPCA.
Latest figures show that brindle-coloured dogs take an average of 56 days to rehome compared with 41 days for others.
Also, between 2015 and 2017 the RSPCA found new homes for 596 brindle dogs compared with 835 black and white dogs and 753 black and tan dogs.
RSPCA welfare expert Dr Samantha Gaines said: "It is a shame to see the correlation between slower rehoming rates and the colour of some of our dogs. Like all dogs, every brindle dog is an individual and they come in all shapes, sizes and characters so we would urge people to see past their looks and recognise the amazing personalities of all of our rescue dogs…
"Some types, especially Staffies, are wrongly seen as dogs with bad reputations but given the right home, these dogs can make great family pets."