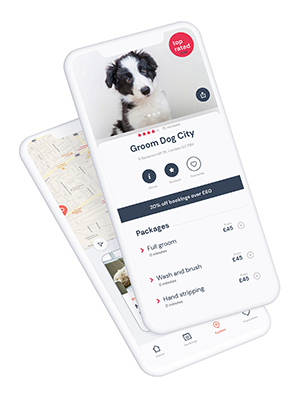 Tuft, a new brand in the pet tech arena, has launched the UK's first app-integrated salon management software to give dog groomers a convenient way to manage their business and reach new clients.
The software, which has been developed for desktop use, offers a host of innovative features to cut down on admin time and a digital dashboard with client, pet and grooming history all in one place.
Coupled with this is a dedicated client-side app that allows dog owners to find, book and review local groomers at the touch of a button, making it easier for salons to reach new customers.
Seamlessly integrating the client app activity with the salon dashboard, Tuft takes care of bookings 24/7, so groomers no longer need to worry about losing leads because they're busy or with another client. Payments are also managed through the app.
STREAMLINE BOOKINGS
Day-to-day business is streamlined with a booking calendar that allows groomers to keep track of their availability. Plus, Tuft's automated push notifications within the app inform clients about upcoming appointments and when their pet is ready for collection, helping to reduce no-shows and late pick-ups.
An in-app messaging system connects to the salon dashboard, allowing dog groomers to keep a 'paper trail' of all conversations should they need to update the owners, answer questions, or resolve any disputes.
What's more, Tuft's quality-rating system encourages pet owners to leave honest, valuable reviews, helping businesses to build their reputation with ease. And just like with the popular Uber app, groomers can rate their clients too.
Tuft has a dedicated support team to help clients transition to a digital business management system. Alongside this is a designated WhatsApp group – aptly named 'The Pack' – for groomers to share feedback and make feature requests for both the salon software and client app.
Chloe Smith, Founder of Tuft, said: "We couldn't be more excited to launch Tuft. Not only does it connect groomers to hundreds of new, local clients, but the integrated software allows professionals to take control of their salon and streamline their business more than they ever have before.
"With Tuft doing the hard work for you, groomers can concentrate on what they do best: making pooches look pretty!"