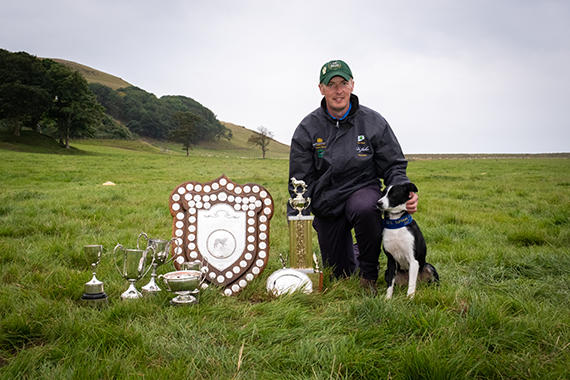 CSJ has sent huge congratulations to all four Champions of the International Sheep Dog Society's International Sheepdog trials held in September at Aberystwyth.
Each of the top-winning handlers feeds their dogs on CSJ's natural diets. Winners were:
> Tom O'Sullivan (pictured above) from Ireland with North Hill Tess, who won the International Supreme Championship
> Ricky Hutchinson from England with Jonah and Denwyn Moya, who won the International Brace Championship
> Peter Morgan from Northern Ireland with Mossee, who won the International Driving Championship and became Reserve Supreme Champion
> Peter Og Morgan from Northern Ireland, who won the Young Handlers Championship with his dog Tip.
All dogs are different and CSJ's nutritionist advises handlers and owners on which options of CSJ's comprehensive range may best suit their dogs depending on activity and age etc, and continues to be on hand to discuss which product or combination gives best results for their particular dog.
Interestingly, three of the four top winners above feed Champ – the popular cost-effective recipe formulated for adult working dogs or active dogs (two of whom also combine this with CP30 the super-premium hypo-allergenic, high energy dog food for very active dogs, bitches in-whelp and puppies using salmon as the main ingredient) and Peter Og Morgan feeds CP30 alone.