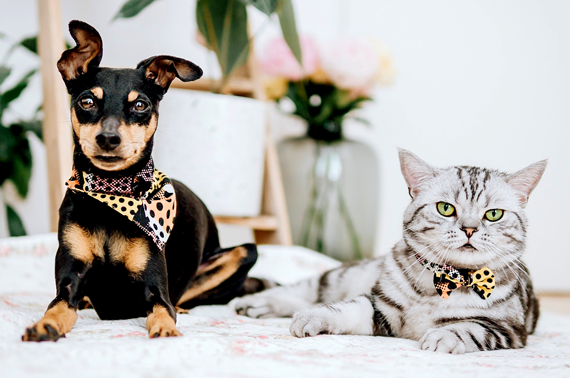 A British company that makes accessories for pets, including cat bow ties and dog bandanas, is expanding to the US after doubling its turnover last year.
The founders of Hiro + Wolf, which also produces embossed leather poo bag pouches and hand-woven dog beds, are in talks with retailers to stock their products in New York after enjoying record sales.
The London start-up was launched in 2013 by animal lover Bee Friedman, 56, and accessories designer Amy Fleuriot, 33, who met while walking their dogs in Hackney, East London.
They quickly discovered a common love for design, animals and sustainability and decided to combine their skills to create Hiro + Wolf, named after their two dogs.
The pair secured a £5,000 fixed-interest loan from Start Up Loans, part of the British Business Bank, and used the funding for materials, printing and marketing.
The duo launched their flagship store on Columbia Road, East London, and recently opened a second store in Margate, Kent.
DESIGN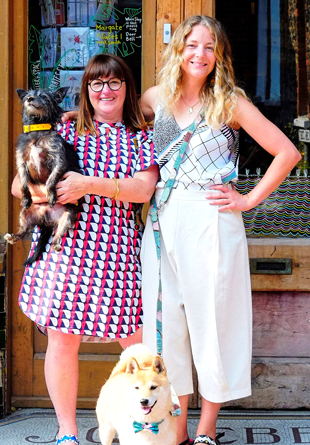 Before starting the business, Bee ran a stall on Broadway Market in East London where she sourced sustainable products from Africa. Amy graduated from London College of Fashion as a design student.
As well as importing fabrics from Africa, Bee and Amy design their own textiles, which are printed in London on to organic cotton. Accessories are then made up by an all-female team based in East London and Staffordshire.
Bee and Amy attribute the success of the start-up to a growing consumer demand for sustainable products, with a recent report by Unilever finding that a third of consumers were choosing to buy from brands actively promoting social or environmental good.
As the business goes from strength to strength, they have made the decision to expand to New York, where they are currently in discussions with multiple pet boutiques.
PROUD
Bee said: "We're incredibly proud of our business and of the products we make. We feel passionate about sustainability and are delighted that we have succeeded in building a business built on ethical values.
"In ethically sourcing our colourful fabrics from Africa, we can always ensure the producers are paid a fair price for their products, and we post out to our online and wholesale customers using 100% plastic-free packaging, corrugated cardboard and recyclable tape."
Co-founder Amy added: "It's fantastic that only six years after we set up we're now expanding to New York. Starting a new business isn't for the faint-hearted, but seeing our business thrive internationally has been hugely rewarding."
DEMAND
Richard Bearman, managing director of Start Up Loans, said: "We're delighted that we helped Bee and Amy set up such a fantastic business that meets a growing demand for environmentally-friendly and sustainable products.
"Small businesses are absolutely vital to local economies, helping to create jobs and generate income, and we would encourage anyone who thinks they have an idea for a business to come to us and speak to one of our many advisors. We're committed to helping small businesses prosper and grow and we look forward to supporting many more in the future."
Backed by the Government, the Start Up Loans scheme has awarded more than 65,000 loans to date, totaling £510m across the UK since 2012.