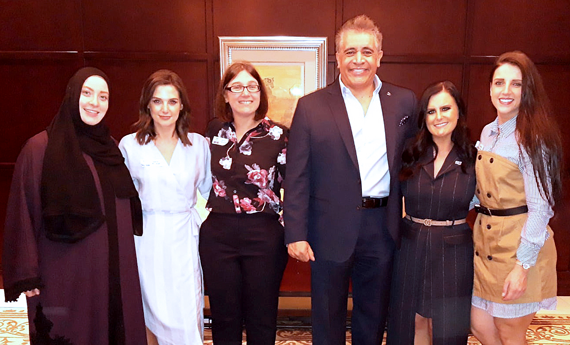 (L-R) Alexandra Berry, Emma Kay-Flowers, Sarah Fowler, Fareed Belalcazar, Samantha Randle and Samantha Frost
Fish4Dogs celebrated a new trading partnership in the United Arab Emirates by hosting a  'discovery event' at the Dubai Polo and Equestrian Club.
The Worcestershire-based premium pet food company, together with Arab Land Trading, welcomed more than 80 guests from pet retail outlets and veterinary centres far and wide.
The event outlined an extensive range of treats and complete foods available for both dogs and cats, explained how fish appealed to pet palates and why it was the 'perfect protein for health and nutrition'.
Arab Land Trading is run by husband and wife team Farah Al Khojai and Fareed Belalcazar, who set up their business in 2001. It acts as a wholesale distributor to retailers and veterinary centres in the UAE and Gulf states and focuses on natural and nutritious pet foods to support pet health and wellbeing.
The couple also run a retail chain, Pets Delight, and an e-commerce platform.
Pet ownership in the UAE is on the increase especially among ex-pat residents who are looking for premium pet products.
PET WELFARE
Samantha Randle, UK and international sales manager for Fish4Dogs, said she was delighted to welcome Arab Land Trading as a Fish4Dogs distributor.
"I have worked with Farah and Fareed previously and know Arab Land Trading to be a very reputable business, which has pet welfare at the heart of everything it does. The UAE has a strong ex-pat community who may already be familiar with the Fish4Dogs brand so we predict that it will become a firm favourite with its customers."
Samantha led the presentation for the discovery event, which provided a networking opportunity for attendees – many of whom had travelled from the nation's capital Abu Dhabi. It was followed by a reception where goody bags were distributed.
ALT managing director Fareed Belalcazar said: "We are constantly listening to the feedback from our customers in the UAE and were receiving more and more requests for a fish-based line of products from customers who have pets with allergies or intolerances that make a fish diet the best choice. Fish4dogs fills this gap in the market with its vast range of complete foods and treats for cats and dogs.
"Fish4Dogs is a reputable brand across the world, which makes it popular with our expat customers and we are delighted to welcome it into our portfolio."
Fish4Dogs, established in 2004, employs 52 people and supplies UK pet owners and pet shops and exports to 35 countries worldwide. Principle brands are Fish4Dogs and Fish4Cats and it has subsidiaries in Norway and Benelux.