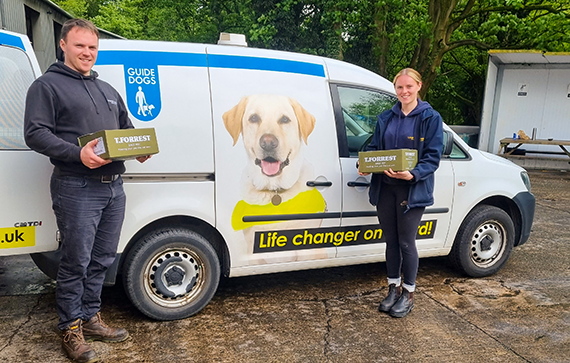 Natural treat business T. Forrest has donated 27 boxes of calcium bones to the North West Division of the Guide Dogs charity.
Sales director Dan Wallbank said: "It's shocking to think that every hour someone in the UK starts to lose their sight. We are incredibly proud to be supporting the work the charity is undertaking and helping them to make such a positive difference in many people's lives.
"Every penny of donations goes to supporting people. We love the work they do and wanted to help in any way we could."
As a national charity, Guide Dogs has 20 community teams, six regional centres, a state-of-the-art National Breeding Centre, more than 1,400 employees and 17,000 volunteers across the UK, enabling thousands of people with sight loss to lead independent lives.
"Like many charities, Guide Dogs rely on donations to continue their life-changing work and for this reason T. Forrest donated 27 boxes of our calcium bones…It's been lovely to see trainers and volunteers share their photos on social media of the dogs enjoying our products."