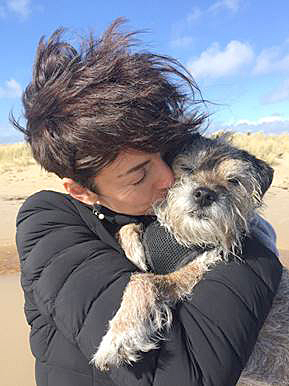 Lily's Kitchen founder Henrietta Morrison with her border terrier, Lily
Fourteen per cent of over-55s spend more than 51 hours alone each week, according to new research.
Natural pet food company Lily's Kitchen – which commissioned the study to coincide with the 16th birthday of Lily, the border terrier behind the brand – is partnering with charity The Mayhew Animal Home to raise awareness of the benefits that adopting an older dog can have on over-55s across the country.
According to the research, having a dog helped 'empty nesters' fill the void of not having their children at home any more and also ensured their mental health did not suffer as a result (54%); a further 25% said they helped keep 'loneliness levels at a minimum'.
Tanya Madden, Mayhew's deputy head of animal welfare, said: "Many people automatically think of a puppy or young dog when they think of adopting a dog, but older dogs are calmer, more relaxed, more independent and often trained, providing that loyal and uplifting companion over-55s may be looking for.
"Rehoming an adult or senior dog can be immensely gratifying while providing a second chance to a deserving pet to become part of a loving household."