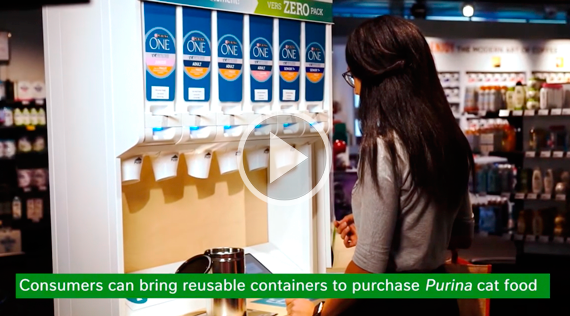 Pet Food giant Nestlé is piloting reusable and refillable dispensers for its Purina cat food as part of its efforts to reduce single-use packaging.
The in-store dispensers offer consumers a shopping experience that is free of single-use packaging, along with flexibility and variety of product choice, it says.
The trial is initially taking pace in Switzerland, where consumers can also digitally access product information that would more typically be found on the packaging, such as ingredients, nutritional values and shelf life.
Nestlé recently piloted the reusable and refillable dispensers in three of its Swiss shops. During the four-month trial period, the dispensers were well received by consumers and the company was able to gain further insights, including the user-friendliness.
The trial will be rolled out to more venues over the next few months.
Bernard Meunier, CEO of Nestlé Purina Petcare, said: "At Purina, our teams are focused on designing our products and packaging for a more sustainable future. This pilot marks an important step forward in our efforts towards waste reduction and we are proud to play a leading role in testing these innovative dispensers.
"Offering pet owners the option of using safe reusable and refillable dispensers in-store can help us improve our environmental impact while still providing great quality nutrition for pets."
You can see how the pilot scheme works in a video on YouTube https://www.youtube.com/watch?v=xPCZPXkgKbs