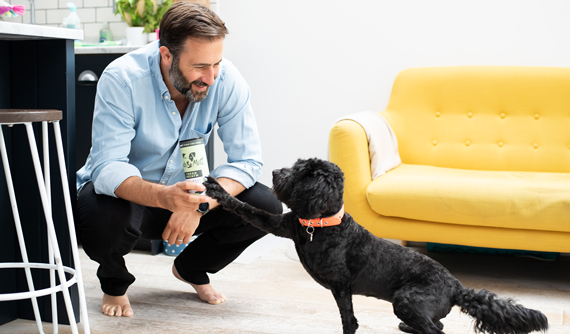 One of the UK's fastest growing pet food brands, Pooch & Mutt, has taken a 'strategic investment' from its long-time manufacturing partner, the VAFO group, in a multi-million pound deal to help grow the brand and develop operations in the UK.
The deal sees VAFO taking a minority share in the company with the ability to take more over time, while providing both the funding and manufacturing capabilities for growth.
Pooch & Mutt's founder, Guy Blaskey, remains at the helm of the London-based business, with the support of VAFO's Petr Kriz, who joins the Pooch & Mutt board.
Guy said: "I am building Pooch & Mutt as a brand for the long-term, one that is focused on high-quality, innovation and doing what is right for the nation's pets. Before this deal I have never taken any outside investment and the share structure was the same as on day one.
"It has taken a long time to find the right deal and the right partner. With VAFO we now have access to the best manufacturing in Europe with the widest range of products produced by any pet food manufacturer. We are now part of a network of ambitious companies who share our values and make great products.
PERFECTLY ALIGNED
"Most importantly, unlike with many other investment deals, our goals are perfectly aligned, and perfectly aligned with our customers – we want to get more pets to eat great quality foods, treats and supplements to help them lead their best lives."
Pavel Bouska, CEO and the owner of VAFO, added: "I like to team up with people who share the same philosophy. The quality and sustainability of our products and its impact on the health of pets is at the centre of everything we do at VAFO.
"As we are predominantly producers, partnering with Guy Blaskey and Pooch & Mutt, who clearly share the same values and operate in the biggest pet food market in Europe, was only a natural step. Because we are a family company, our partnerships usually last for decades and not for years, as I am sure it will be in this case.
"Sustainability of the business, the satisfaction of our customers and overall happiness of employees are key pillars upon which VAFO is built."
In recent years VAFO has invested heavily in its operations, opening its eighth plant in May 2020, as well as in M&A across Europe, investing in companies in Germany, Finland, Sweden, Poland and Estonia.
HUGE OPPORTUNITIES
This opens up huge opportunities both for Pooch & Mutt to expand internationally and to bring a large range of innovative, new products to the UK market, Guy says.
Pooch & Mutt is a multi-award-winning award-winning premium pet food brand, with a focus on natural, functional products, such as Calm & Relaxed and Health & Digestion.
Pooch & Mutt launched as a dog health supplement company in 2007 then moved on to treats and foods with supplements 'built-in'. The products are sold in Pets at Home, Sainsbury's, Amazon, Ocado, Online Direct as well as via pet shops and vets.
VAFO is a leading Czech producer of premium and super-premium pet food, snacks and supplements for dogs, cats, rodents, rabbits, fish and exotic animals. Its flagship brand, Brit, is distributed to more than 70 countries throughout four continents.
Guy says that, although little known in the UK, VAFO has a larger turnover than the biggest three pet food brands in the UK… combined!