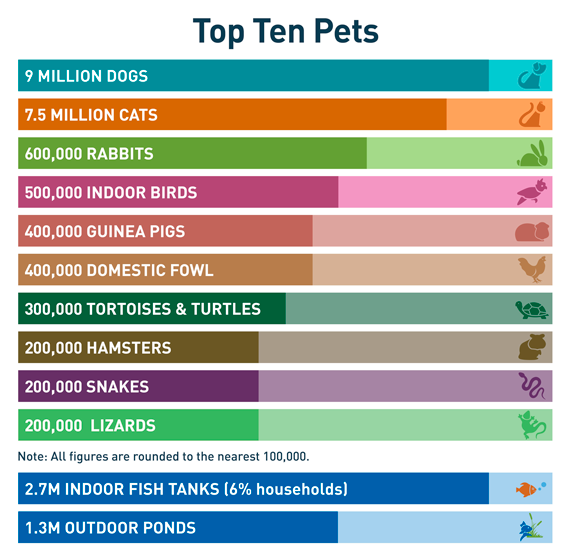 The Pet Food Manufacturers' Association (PFMA) – celebrating its 50th anniversary – revealed the results of its annual pet population survey…and taking top spot are the UK's nine million dogs.
The annual survey looks at 8,000 households, with the data this year confirming a stable population of 12 million pet-owning households in the UK.
Top ten pets 2020
9 million dogs (23% households)
7.5million cats (16% households)
600,000 rabbits (1% households
500,000 indoor birds (1% households)
400,000 guinea pigs (1% households)
400,000 domestic fowl (0.3% households)
300,000 tortoises and turtles (0.5% households)
200,000 hamsters (0.5% households)
200,000 snakes (0.4% households)
200,000 lizards (0.3% households)
Fifty years ago, the budgerigar was the UK's third most popular pet and there were only 5.1m dogs and 4.6m cats. Since then, the dog population has grown 76% and cat population has grown 63%.
These figures transcend growth in the human population, which is 19% over 50 years. Dogs have predominantly held on to the number one spot through the years, although cats did claw their way to number one over the millennium.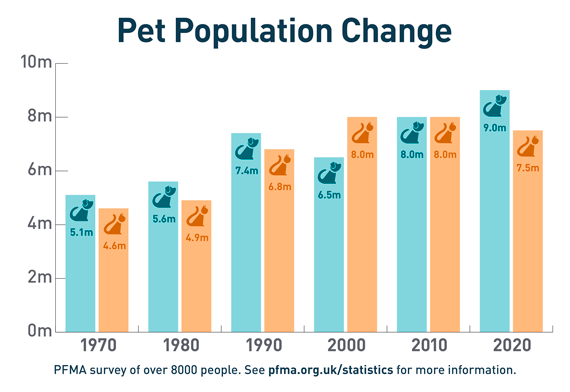 Historical dog and cat populations
1970: Dog 5.1m / Cat 4.6m
1980: Dog 5.6m / Cat 4.9m
1990: Dog 7.4m / Cat 6.8m
2000: Dog 6.5m / Cat 8m
2010: Dog 8m / Cat 8m
2020: Dog 9m / Cat 7.5m
For 2020 the PFMA says it would like to thank these loyal pet companions 'who are helping the 41% of pet-owning households through the coronavirus pandemic and beyond.'
Michael Bellingham, chief executive, said: "Over recent months, our lives have been disrupted by unprecedented social, economic and emotional challenges as a result of covid-19. Throughout this period, the tremendous support provided by our pets has been widely documented. Pets have helped many of us navigate these strange times by bringing much needed comfort, happiness and routine."
Trends expert, Joeri Van den Bergh, looked at the impact of covid-19 on pet owners: "In our covid-19 lockdown research we witnessed confined pet owners paying extra attention to physical and mental wellbeing by playing with their cats and walking their dogs. Many mentioned having more time with their pets as the positive side of working remotely from home. With restricted contacts, pets turned out to be even more important companions than ever before providing a welcomed alternative for hugs from our human but distant friends and relatives."
Michael Bellingham summed up: "Looking at the numerous positive stories of pet interaction throughout this period of change, it is likely that more people will see the benefits of pet ownership.  We look forward to watching the landscape evolve further over the next 50 years.  At pfma.org.uk, whether the UK is on lockdown – or not – we have excellent advice for owners looking to keep their pets healthy and well."