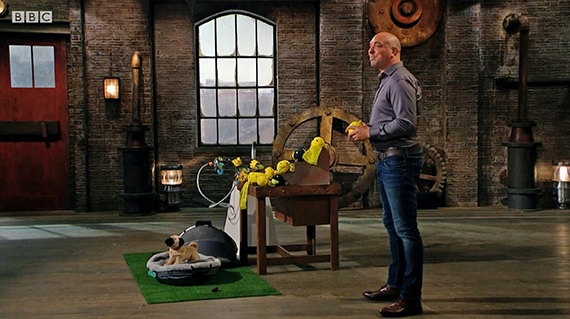 An Irish inventor secured investment for his range of pet products after appearing BBC One's prime-time Dragons' Den programme.
Darren Louet-Feisser impressed entrepreneur Touker Suleyman with his Potty Mouth Pooper Scooper, and received a £50,000 offer for 35% of his business.
The 44-year-old had sought the money in return for 10% equity but agreed to Touker's counter offer of 30% if the Dragon received his investment back within 18 months.
Touker told Darren: "Twelve months ago I said I wanted to be in the pet market but needed someone like yourself to help me invent a new range.
"I could help you to catapult your products to a wider audience. I'm certain we can take the pet market by storm."
Darren, whose Nobu Pet company is based in Blackrock, Co Louth, focused his pitch to the Dragons on his Potty Mouth Pooper Scooper. He invented the smiley-faced device after a 'eureka moment' watching his children pick up snails in the garden with a broken tennis ball.
He admitted it was a little nerve-racking waiting to enter the Den but relaxed when he heard Touker Suleyman's desire to break into the pet industry.
His range of pet products includes cat beds, litter trays and dog washing brushes, and the Nest & Go pet bed/carrier/waste tray system also impressed Deborah Meaden.